Packaging: All-electric for maximum performance
Engel's Packaging business unit will be presenting an all-electric injection moulding machine in Friedrichshafen. 500 ml food containers will be produced on an Engel e-motion 440/160 featuring a 2-cavity mould by Glaroform (Näfels, Switzerland). In-mould labelling (IML) will be used to decorate the packaging; to do this, Engel will collaborate with partner company BECK automation (Oberengstringen, Switzerland). "The steady enhancement of the Engel e-motion series is serving to establish the machines in the field of high performance applications for the packaging industry," says Kurt Hell, Sales Manager at Engel Packaging.
The newest machine generation is able to achieve cycle times of well under three seconds and injection speeds of more than 500 mm per second, thereby combining maximum performance with maximum energy efficiency. The closed system for toggle lever and spindle always guarantees optimal, clean lubrication of all moving machine components. This makes the Engel e-motion the preferred machine type even in regulated areas such as food packaging production.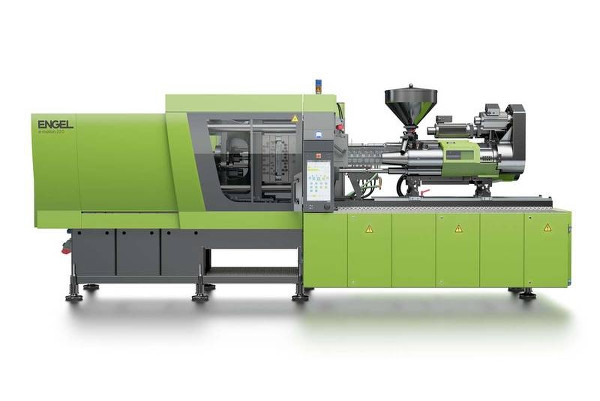 Medical: Process integration for safety
In the Medical section of its stand at Fakuma 2014, Engel will be producing drip chambers with integrated filter for blood transfusions. An Engel e-victory 310H/80W/50V 160 combi tri-component injection moulding machine with ecodrive and a clean room design will be used in this highly integrated production process. Each drip chamber will comprise one ABS and one PP component; in a single workstep, they will be injection moulded, fitted with the filter and joined by means of overmoulding with additional polypropylene. This high degree of integration significantly boosts efficiency in the manufacturing of multi-component hollow bodies with inlays. Conventionally, the two hollow body components are individually injection moulded; the inlay is then fitted and bonded in subsequent process steps. "Drip chambers are mass-market products that need to be manufactured economically despite the stringent demands on product safety and hygiene," says Christoph Lhota, Vice President of Engel's Medical business unit, underlining the importance of the innovation. "We believe there is potential for this innovative one-shot process in other sectors too, such as the production of fuel filters in the automotive field."
One key prerequisite in realising the integrated process is servoelectric drive technology for all movements of the index plate mould; this facilitates the synchronous control of mutually independent movements. For this application, the mould manufacturing partner is Hack Formenbau (Kirchheim, Germany).
An Engel easix multi-axis robot is also integrated in the manufacturing cell along with a system for total quality control. The drip chambers are inspected for seal tightness directly after injection moulding.