With a wealth of injection moulding experience and automation expertise, Engel Austria develops highly cost-effective production concepts for the manufacture of composite parts. The aim of development work is to speed up the introduction of innovative lightweight construction technology to high-volume series production. At Composites Europe 2016, which takes place from November 29th to December 1st in Düsseldorf, the machine manufacturer will present pre-series production solutions for the automobile, teletronics and technical component sectors.
Producing ready-to-fit components from polymer granules in a single step is cutting-edge practice in the injection moulding field. However, such efficiency is yet to be achieved in the direct production of lightweight components from dry fabrics or NCFs. Of the processes used by industry, HP-RTM technology comes closest to the objective of making ready-to-fit parts from dry preforms in a single step. Since the in-situ polymerisation of ε-Caprolactam presents fresh opportunities in this area, it will form one key focus of the Engel presentation at the trade event. Production efficiency is enhanced thanks to the combination of in-situ polymerisation and injection moulding, while the use of ε-Caprolactam supports the trend towards greater usage of thermoplastic matrix materials.
In-situ polymerisation and injection moulding combined
In the in-situ process, polymerisation and the moulding process are combined in an injection moulding machine on the basis of dry, pre-shaped reinforcing fabrics. Since the presentation of the first prototype machine, Engel has continuously optimised the system components and developed a completely new reactive unit that can be combined with different types of Engel injection moulding machines. Engel was the first supplier on the market to melt and process the solid monomer according to need. The advantages of this are significantly reduced thermal load, and therefore higher product quality. Engel sees great potential for the automotive industry and for other applications, for example in the field of technical injection moulding.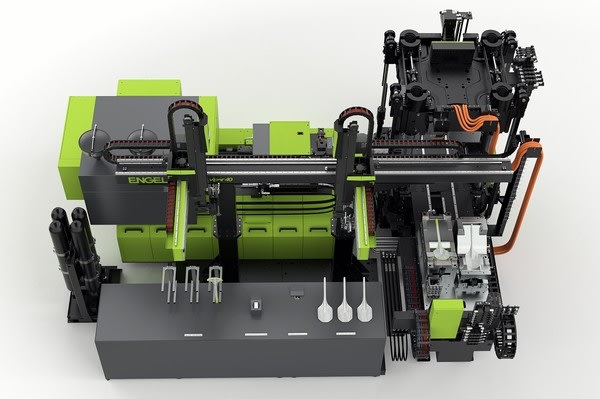 In partnership with Schöfer (Schwertberg, Austria), Engel has developed a pre-series manufacturing cell for the manufacture of thermoplastic fibre-reinforced components. Representing the wide range of possible applications, shovels are produced on the Engel v duo 1560/700. The clamping unit is equipped with a sliding table fitted with two mould halves for optimal accessibility. Dry, pre-shaped reinforcing fabrics are inserted into the first cavity and infiltrated with the reactive matrix. To do this, the solid ε-Caprolactam is melted and metered in the reactive unit. Thanks to the monomer's low viscosity in the molten state, the dry fibres can be wetted particularly well. A highly resilient composite is thus formed when polymerising to polyamide 6. Since reactive processing takes place below the polymer's melting temperature, the composite semi-finished product can be transferred to the second cavity immediately after it was produced where it is functionalised by injection moulding. Reinforcing ribs and contours of short glass fibre-reinforced PA 6 are injected to achieve this. Polymerisation and injection moulding take place parallel to each other. An Engel viper 40 double robot takes over handling the fibre preforms and finished parts as well as transferring the semi-finished products.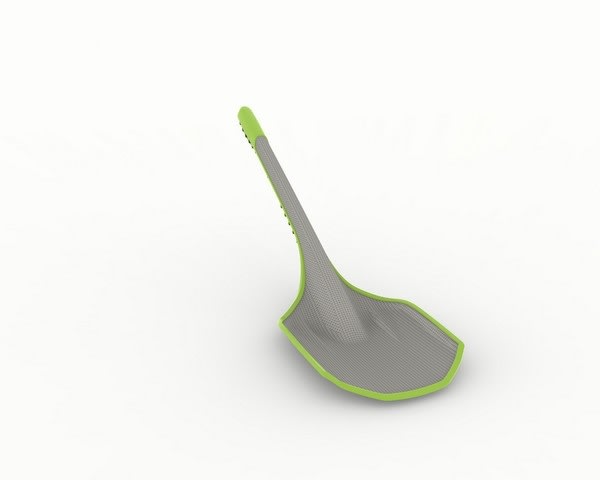 With its v-duo series, Engel has developed a relatively compact, energy-efficient machine specifically for fibre composite applications and multi-component processes with fibre preforms, and one which facilitates particularly cost-effective production solutions. Its vertical clamping unit can be accessed from all four sides instead of just two. When processing dimensionally unstable semi-finished fibre products in particular, it is often advantageous to work in the direction of gravity.