Electric vehicles are gaining ground in China - bringing with them innovative lightweight construction technologies. At Chinaplas 2018, which takes place in Shanghai from April 24th to 27th, ENGEL will present its composite expertise to a Chinese audience for the first time with a special Expert Corner. The Austria-based producer of injection moulding machines and system solutions supplies customised manufacturing cells from a single source to facilitate the highly efficient and cost effective series production of fibre composite components.
Having established a Center for Lightweight Composite Technologies in 2012, ENGEL has become a preferred partner to the international automobile industry in the field of lightweight construction. ENGEL is working here with other companies and universities to develop highly cost effective new FRP lightweight engineering processes for mass production. Two key success factors for ENGEL are its wealth of experience in injection moulding processes and its expertise in automation. Together with its partners, ENGEL has already set some internationally significant milestones.
Several of the new processes are now in series production and are being applied to more and more customer projects. To effectively meet the rising demand, the machine manufacturer set up ENGEL Composite Systems last autumn, which is responsible for project planning as well as project management of composite systems. The Center for Lightweight Composite Technologies can now concentrate more fully on research and development. "Thanks to the new structure, we can be sure of covering a broad spectrum of technologies in the future," stresses Matthias Mayr, head of ENGEL Composite Systems.
With ENGEL as a partner, manufacturers of composite parts have one central contact person from project launch to after sales, even where several companies were involved in developing the processing technology. "We supply turnkey solutions from a single source and help our customers adapt the technology to their specific requirements," says Christian Wolfsberger, Composite Technologies Business Development Manager at ENGEL AUSTRIA. "This significantly simplifies project management for customers. At the Shanghai site, we recently appointed more employees in the application technology area and the automation centre. As a result, we have both the resources and the expertise to handle complex composite projects on the spot in Asia." At Chinaplas, Christian Wolfsberger and lightweight construction experts from ENGEL Machinery Shanghai will be on hand to hold discussions with visitors to the trade event.
Innovative technologies for automotive, teletronics and technical moulding
In the area of composite lightweight construction, ENGEL makes use of every future-focused technology currently available, from HP-RTM and SMC to the processing of semi-finished thermoplastic composites such as thermoplastic fabrics and tapes, and reactive technologies like in-situ polymerisation (T-RTM). Over the four days of the trade event, ENGEL experts will use sample parts and videos to illustrate innovative technologies and current projects. It will be shown that the new processing methods open up opportunities not just in automotive construction, but also in teletronics and technical moulding applications, for example.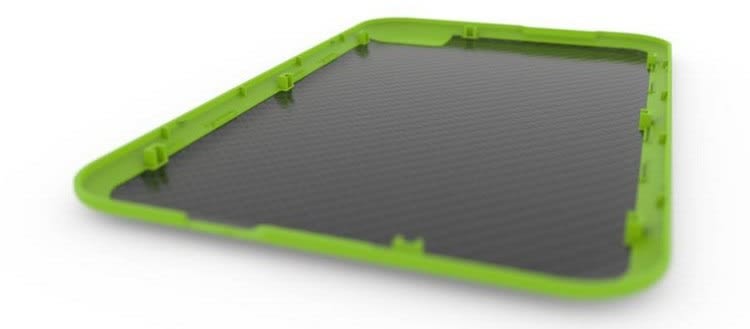 Highly robust and extremely thin: ready-to-install tablet housings with a wall thickness of 0.6 mm are produced on an ENGEL insert injection moulding machine.