In November 2007, Mack started up the new medical molding cell at Arlington, VT, as the latest step in carrying out a strategic decision made in 2000 to expand the company's medical market share, according to Carl Bickford, headquarters plant manager. The fully enclosed cell uses positive differential pressure and fine-particle filters to provide a protective barrier for molding medical products. It has its own operating staff and technical resources, and operates on a 24-hour basis.
The resins regularly processed in the medical molding cell are polycarbonate, polyarylamide, polyphenylenesulfone, ABS, glass-filled nylon, polypropylene, and thermoplastic elastomers; they include both optically clear and opaque formulations. Because some of these materials are particularly challenging to dry properly, the drying speed and efficiency of the LPD system and the small size of its drying batches are particularly advantageous, according to Revane. - There is no worrying about cumulative drying time and polymer degradation - he said.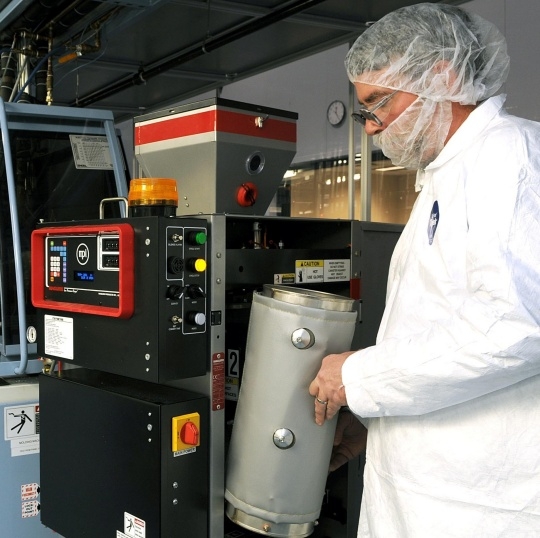 Besides drying speed and small batch size, another benefit cited by Maguire for the LPD dryer is a substantial reduction in energy consumption, by as much as 80% in comparison with older desiccant dryers now in use. - Energy savings was not the deciding factor when we purchased the dryers for the medical molding cell - said Bickford - but it will be a consideration as we research the possibility of using larger LPD dryers for other production lines.
While desiccant dryers flow hot, dry air over the pellets to slowly draw the moisture out and then use desiccant to adsorb the moisture, the LPD dryer uses vacuum to reduce the boiling point of water, quickly turn the moisture into water vapor, and literally pull the water vapor from within the pellets. Need for desiccant is eliminated - and with it the cost of regenerating desiccant, which adds to the energy cost of conventional dryers.
AGUIRE PRODUCTS, INC., headquartered in Aston, Pennsylvania, U.S.A., is the world's largest supplier of gravimetric blenders and liquid color pumps and also manufactures loading systems, dryers, auger feeders, and related equipment and software. Its customers include injection, blow, and rotational molders, extrusion processors, and compounders. Founded in 1977, Maguire operates five manufacturing facilities in Aston and Smithfield, Rhode Island, U.S.A.