Mack Molding Co., one of North America's premiere plastics processors, reports that the speed and versatility of Maguire LPD vacuum resin dryers have helped maximize the productivity of the company's new medical molding cell.
Based at Mack's headquarters plant in Arlington, the molding cell is designed for short runs of prototypes, small-lot parts, and parts in multiple colors, noted Tom Revane, process engineering manager. The cell is equipped with five 40- to 100-ton injection molding machines, each served by a dedicated LPD vacuum dryer.
- As a medical market supplier, it's important to maximize machine uptime for products that require frequent resin and tool changes - Revane said. - Some of our customers' products must be run i small batches of 100 parts or less, and in a multitude of colors. With an LPD dryer at each press, the resin for the next job is dry and ready for use by the time the new tool is set.
The key to the versatility of the LPD dryer is its much shorter drying cycle and smaller batch size compared with conventional desiccant dryers, according to Mark Hamilton of Hamilton Plastics Equipment, LLC, a sales representative for Maguire.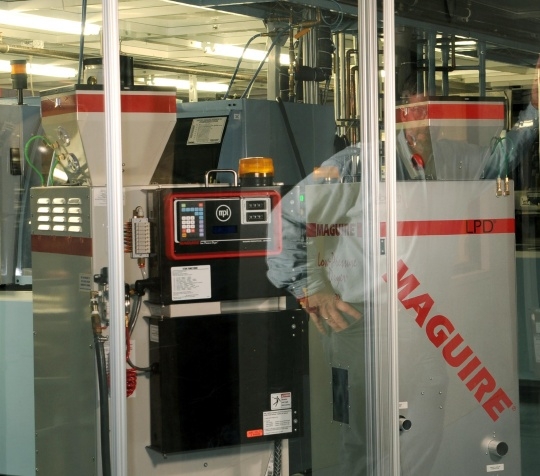 - The LPD system dries resin in only one-sixth of the time needed with conventional dryers - literally 40 minutes or less, instead of the four hours needed with a desiccant system - Hamilton said. - And because the LPD dryer has a three-station indexing mechanism that supplies resin to the processing machine while another batch is being dried, it is possible to work with small batches yet still maintain a continuous process.
When Hamilton first approached Mack Molding about the Maguire dryers, Tom Revane was skeptical. - Mark convinced us to use one dryer on a trial basis. Our first trial was with a polycarbonate resin with an initial moisture content of 0,24%. After 25 minutes in the dryer, moisture was reduced to 0.03%. When many more trials proved that the LPD dryer worked rapidly and consistently, we ordered one machine for each of the presses in our medical cell.
A pioneer plastics processing firm founded in 1920, Mack Molding is today a full-service custom molder, metal fabricator, and contract manufacturer with annual sales over USD $270-million. The company has plants in seven locations in the U.S., operates injection molding machines from 28 to 4,000 tons, and employs 1,800 people. Mack provides design, engineering, prototyping, and complete manufacturing services.