Dr BOY insert moulding machines with vertically arranged clamping units offer many advantages for an automation of the production process. In particular, the easy and space-saving integration of peripheral equipment and the possibility for rapid changeover are decisive factors.
For decades, the insert moulding machines from the manufacturer from Fernthal have set standards for those automated production cycles and are being successfully employed throughout the world by many customers.
There has been a tendency towards the automation of injection moulding machines for quite some time in the plastic-processing industry. However, the requirements do not stop at that. Integrated automation concepts should, if at all possible, take over the complete processing of the moulded parts, which is the very claim the new, modular design meets entirely. A look at this design will reveal how the production process works in practice.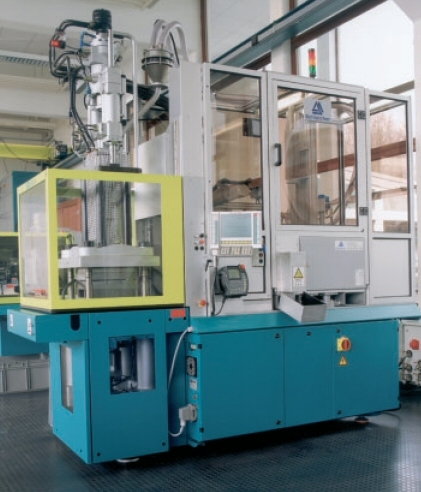 One of two main elements of the modular line is the insert moulding machine BOY 55 VV with a clamping force of 550 kN. The fixed lower platen for secure positioning of the inserted parts is very favourable for such lines. Thus the parts, which are very often individually formed, can be easily picked up, transported, and deposited again. Generous distances between tie bars of 360 x 335 mm allow the production of relatively large moulded parts, or the use of moulds with many cavities.
The other key element of the line is the precision robot. Due to the great moveability of a six-axis robot, many modular processing stations can be arranged within the cell. At least just as important as the moveability is the long range of the robot. The design must be such that all positions can be securely reached and that, furthermore, quick access to the densely arranged processing stations is enabled.Modern swan-neck robots excel with a very high performance regarding precision and speed. The accuracy of positioning is two hundredths of a millimetre, thus guaranteeing reliable and continuous operation of the line.
Unlike the standard components insert moulding machine and robot which, so to speak, are the heart of the injection moulding cell, the injection mould and the downstream processing stations naturally have to be individually designed, to accommodate the parts.