Demag Hamilton Ltd. will demonstrate its IntElect machine at
Interplas
trade fair held in Birmingham. The machine is designed to the production of precision components for medical, diagnostic and pharmaceutical applications under cleanroom conditions.
An IntElect 50-45 with a clamping force of 500 kN, the smallest model of the IntElect series will be shown in Septemeber at Interplas 2011. The machine will be seen during production of control knobs with a diameter of 3.5 mm made of polyacetal (POM) for hearing aid devices in a cycle time of 10 seconds. Precise and sensitive drives and automation integrated in the machine make possible to manuafacture medical micro compnents with absolute reproducibility and zero-defect production, in the case of control knobs, mouldings weighing a mere 10 milligrams and having a shot weight of only 280 milligrams.
The production cell has been designed and developed by Sumitomo (SHI) Demag and its partners. Stamm AG of Hallau from Switzerland designed and built the four-cavity cold runner mould with a tunnel gate that is responsible for the production of particularly challenging micro mouldings from a wide variety of different plastic materials and uses a number of machines supplied by Sumitomo (SHI) Demag.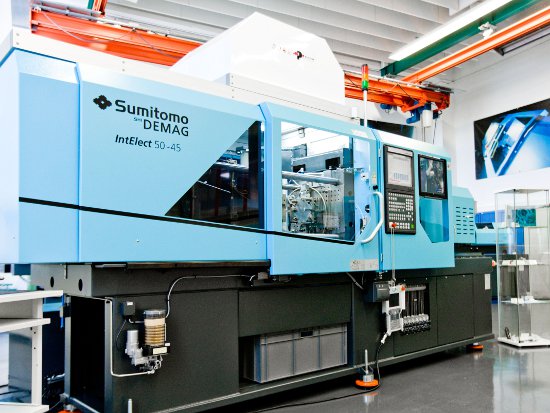 Photo: Photograph courtesy of Sumitomo (SHI) Demag
Another partner, Max Petek Reinraumtechnik of Radolfzell from Germany made the cell, built according to cleanroom standards, and the laminar flow with the filter fan unit purifies the air brought in from the outside, and provides a constant laminar air flow above the mould mounting space of the machine, which prevents particles from entering to guarantee ISO 7 production environment of a cleanroom class. Integration of the six-axis robot from Yaskawa Europe GmbH into the injection moulding machine is made by German specialist in automation solutions, MAi GmbH & Co. KG of Küps. Design and configuration of the robot ensure a complete, fully automatic visual inspection within the cleanroom production cell and make the susceptible mouldings less likely to become contaminated during unloading, inspection and packaging.