Creative Confusion
– Ambiguity and the element of surprise are welcome – in fact, they are sought after – by a population that no longer wants mass-produced sameness and blandness in the products they buy or in their lives. Today's consumers want more irony in their lives, more excitement, and they will favor brands that help them achieve that. In design, it's a time of profound playfulness, where things get mixed together that were never mixed before.
The colors of Creative Confusion are bright and fun, as you might expect, but they also take advantage of special effects and unique combinations that deliver the unexpected.
Here we encounter Bizarre, an uncanny fusion of translucent purple and yellow, which creates a strange, undefined green. Equally absurd, Abracadabra harnesses the power of light to transform white into a mysterious violet.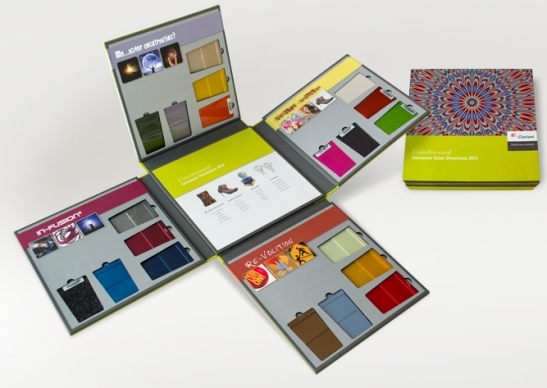 In-FUSION 3
– Actually an extension of In-Fusion 2 , which was part of ColorForward 2011, this trend theme recognizes that the blending of the human and the technological is not only continuing but, in fact, evolving very quickly. Augmented reality created by digital media (phones, Ipods, social networks, viral video, and the like) has leapt ahead to what the ColorForward team now refers to as augmented hyper-reality. It is embodied in 3D entertainment and motion gaming, which blur the line between media and personal space.
This merging of public space and private space is also seen as we share our thoughts in blogs, on Facebook and reality television. Fantasy becomes reality and vice versa. We can wrap ourselves in environments of our own making, and not just in the home. Mobile connectivity will allow us to take our "cocoons" wherever we go and feel we are in a safe place while communicating with anyone, anywhere.
Colors in this grouping are otherworldly, suggesting a confluence of space, time and technology. Hyperlight, for instance, is made up of different glitter colors that can only be produced in molded plastic. Other looks – like StarLED, purplish blue color co-injected with a layer of puffed silver starburst – are also made by bringing together more than one color and/or special effect to achieve a result that merges fantasy and reality.
Re-Volition
– This trend emerges in response to the negativity that has grippedthe world in the latter half of the 2000s: the financial crisis, wars without resolution, religious conflict and controversy, global warming, political corruption and government gridlock.
People seek a resolution to these problems, but instead of looking for help from traditional authorities (who, they often feel, may be responsible for creating), they look inward. Often using social media, they make personal resolutions, form small alliances with others who share the same ideas. Individuals join together to gain power in a daunting world. They believe fervently that there is a better way forward and they take personal responsibility for change.
The palette of Re-Volition is pure and unadulterated. Solid colors without special effects. They range from a lively yellow/orange called Mind Switch, inspiring a new approach to problems, to warm Collaboraction red, which commands attention and stands for decision-making and commitment, and finally to a soothing, stable pearlescent brown named New Equilibrium.