In 2012, colors that mirror a sense of movement, evolution and surprise – bright, lively, even quirky hues and special effects – can be expected to find a receptive public. So will soft, muted, earthy and organic tones that convey introspection, stability and personal responsibility.
If these two trends seem at odds, that may be because confusion and contradiction is also an important element in some of the major societal trends identified in the latest edition of ColorForward. This trend analysis and color design tool from Clariant Masterbatches is released annually to help plastic product designers and marketing professionals make more informed color choices.
"Economic, technological, political and philosophical changes are happening across the globe at an incredibly fast pace," says Cristina Carrara, Designer at ColorWorks in Merate, Italy, and a member of the Clariant Masterbatches global ColorForward team.
"Technologies that enhance communication and social interaction push these changes along. This creates an atmosphere of anxiety and uncertainty, while, at the same time offering people a means to regain a measure of control over one's personal environment.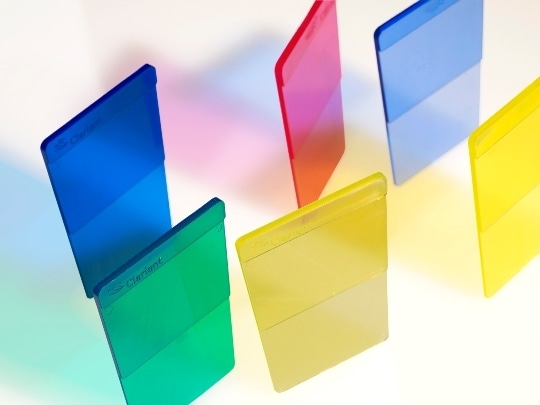 In 2012, Carrara says, people will be quite open to taking chances and risks and will want to bring back a strong sense of identity. A growing distrust of the status quo can be expected to lead consumers to reject mass-produced things and seek more product customization; dissatisfaction with current leadership will be expressed by taking personal responsibility to make the world a better place.
ColorForward 2012 presents four global societal trends, which can be expected to influence the way consumers respond to color. Through intensive research and consultation with other color experts and organizations in different industries, an international team of Clariant specialists selected five different colors – or combinations of colors, as well as visual and tactile effects – for each trend.
While influences come from fashion, jewelry, interior design and other fields, the Clariant color predictions relate to plastics products and packaging. This valuable tool isintended to help designers and brand marketers make informed decisions for products that will be introduced over the next several years.
The ColorForward team includes representatives from Asia, Australia, Europe and North and South America who bring an international perspective. Only trends that have truly global relevance are considered. For 2012, those include:
Me… Under Construction?
– Times of rapid societal change require each of us to rethink who we are and what we want. We are introspective, self-questioning, seeking a balance between our inner and outer lives, our beliefs and the world around us. A major icon of the times, the ancient Mayan Calendar comes to an end on December 21, 2012, suggesting the end of the world as we know it. Some see planetary destruction, while others look forward to a spiritual transformation, a revolution of consciousness and evolution to a higher level of humanity, where caring and sharing are worthy goals by which to live.
This palette incorporates natural hues that evoke the magic of ancient mythologies and the search for self in a high-tech world. It includes Echo of Silence, a delicate sand color that is slightly translucent to suggest lightness. The mythological aspects of this trend theme are represented by a terra cotta orange, overlaid with a burgundy red, which is named for the highest of Mayan gods, Itzamná. Introspective and stable, Inner Strength is a deep, dark non-black with an almost-hidden tinge of primal green.