The British Plastics Federation (BPF) presence at K 2010 paid dividends for the UK's plastics industry with UK exhibitors reporting great successes at the show and the BPF also reporting on the equally successful launch of its sustainable manufacturing book at the Fair.
More than 135 UK companies exhibited at the K show this year with 35 exhibiting within the British Pavilions.
"We launched a brand new machine at the exhibition, a saddle wire laying machine which provides wiring branch saddles for gas and water pressure distribution systems," said Gary Jones, chairman of MSA Engineering. "The machine sold on the first day of the show and is worth £1.5m. From the enquiries that have come in, we will be busy for the next three years."
Gary Probert, director of Hi-Tech Automation, added: "It's my second show and I think that having a practical demonstration on our stand encouraged a lot more visitors to stop and talk to us and hence a lot more serious business leads."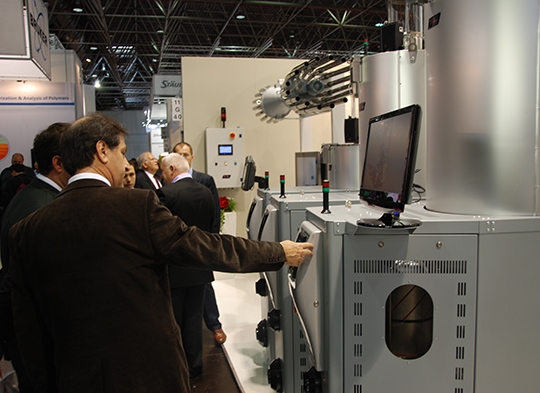 Other member companies commented on the relationships developed with their international customer-base and the potential to develop further business abroad through their presence at K.
"We sell a surface decoration technology into the moulding plastics markets specifically targeting consumer electronics, automotive and sports industries," said Peter Wood, CEO of IDT.
"We have deployed over eighty systems in the last two years into Asia and the USA. Being a part of the British Group gives us an opportunity to connect with our supply chain, 70% of our business is export and as a result of the global demand for technology in we have set up in Taiwan."
The BPF launched a book titled Sustainable Manufacturing: A Guide for the Plastics industry at K. According to the federation, through a variety of case studies and feature contributions by leading experts in sustainability, the book aims to equip companies with the information and support needed to implement systems to fulfil long-term sustainability goals and objectives.
Philip Law, public and industrial affairs director at the BPF said: "Our target is to provide a vehicle for the UK plastics industry to develop business in India, China, the Middle East and Central Europe. We are representing the industry as a rich source of expertise in the sustainable manufacturing of plastics. Our seminal book is a great launch pad into these markets."