Increasing the convenience it offers to customers, Bosch Packaging Technology - in partnership with recently acquired Kliklok Corporation - will introduce the Kliklok ITC at interpack 2017. This integrated topload carton forming, loading and closing solution complements Bosch's current packaging portfolio, and enables it to offer its food customers complete system solutions for primary, secondary and tertiary packaging. The new development boasts one of the highest speeds available for a solution with such a small footprint, and has a large carton size range. This allows manufacturers to save production space and increase product output without compromising on quality.
Integrated for modernized operation
Targeting producers of confectionery, cereal bars, bakery products, biscuits and cookies, the ITC's principal function is to form topload style cartons or trays and automatically load wrapped products into them, before closing if required. Comprised of a single fully integrated solution with three functions - carton forming, loading and closing - the machine helps to reduce customer footprint with an ergonomic design, avoiding the need to source three separate pieces of equipment, to interlink and integrate them. Another benefit of the ITC is the need for only one operator and one Human Machine Interface (HMI), which enables the productivity rate to be improved. Increasing labour costs and availability of qualified resources has driven the demand for this complete, easy-to-operate integrated topload cartoner. Neil Fowell, general manager, Kliklok International Ltd., comments: "Innovation is at the heart of everything we do and it is imperative for Bosch to adapt to consumer demands as we focus on becoming the single-source solutions provider within the market."
Forming a variety of carton styles
The ITC offers food customers the flexibility to change formats and run a variety of carton styles, and is designed for flow wraps, roll wraps, compartment trays or multi-packs. Cartons are fed using a reciprocating carton feeder, and are formed using a motion profiled vertical plunger. Either lock or glue cartons can be formed on the ITC, and four possible carton styles can be incorporated within a single or twin infeed model: three-flap carton with full flaps, three-flap carton with economy flaps, a single-flap carton or a tray.
Once the carton is formed, an intelligent transport system is used to carry it independently through the machine loading and closing module. This system provides flexible and variable configurable control of the carton to suit both loading and closing requirements, and is also comprised of minimal parts, reducing maintenance and increasing Overall Equipment Effectiveness (OEE).
Robotic hand for high speeds
The next step is the automatic loading of products, integrated into the machine using Bosch's well proven Delta robot. The appearance of a Delta robot is similar to an inverted three-legged tripod. The three segments or "arms" move independently of one another but share a common connection - the "robot hand". This is moved by either extending or retracting one of the segments and enables Delta robots to reach every point within their range at the same speed at high accuracy. In contrast to conventional robots, Delta robots do not need to struggle against gravitational and inertial forces and are therefore capable of extremely high speeds. In addition, the Delta robot is able to track the carton transport system and load products 'on the move' - an advantage over 2-axis robots which can only load stationary cartons. As a measure of its success, Bosch has installed in excess of 3,000 Delta robots globally.
Closing section for appealing products
For the carton closing operation, a simplified lugless design eliminates carton carrying lugs, driven chains, mechanical transfers and timing flaps. Instead, the closing section uses easily replaceable high-friction belts to quietly convey cartons out of the machine, effectively reducing any carton marking and product damage.
The next generation Human Machine Interface (HMI)
Responding to customer demand for efficient and fast production while maintaining premium product quality - the ITC offers reduced changeover times and improved performance levels. Developed with the new HMI 4.0 touch screen, the next generation of intelligent human machine interfaces, it offers users an enhanced experience, guiding the operator through each step of the production process. With a clearly structured menu, operators are immediately aware of the machine status. With trouble-shooting support, the HMI significantly reduces the risk of unscheduled downtime and allows employees to minimize planned maintenance time. The ability to optimize production schedules for greater efficiency leads to a faster return on investment (ROI) and lowers overall total cost of ownership (TCO).
Customized services for all maintenance strategies
A comprehensive range of services to improve machine efficiency and productivity completes Bosch's line competence. The focus is on solutions for preventive maintenance as well as services to eliminate unwanted machine conditions as quickly as possible. To this end, Bosch provides a worldwide service network with qualified field service technicians who offer regional support. Thanks to digital services such as Remote Service, which is now supported by a visualization and chat feature, or the mobile version of the E-Portal, which will be presented at Interpack 2017, customers receive targeted support regardless of their location. Bosch will further showcase the versatile training portfolio of the Bosch Packaging Academy. Apart from new assistance solutions, Bosch will demonstrate virtual training concepts enabling manufacturers to acquire demand-oriented know-how for machine operation and maintenance. Bosch will also illustrate how Preventive Maintenance Parts Kits and tailor-made maintenance agreements help to proactively minimize unplanned downtime.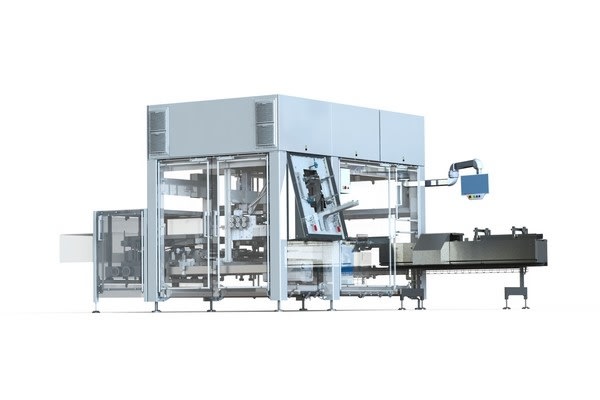 The Kliklok ITC - Integrated Topload Cartoner - will be on display at interpack 2017, Hall 6, A31, in Duesseldorf, May 4th - May 10th.