Mysterious. Original. Elegant. Classy. Challenging. Black is a colour that transcends trends and inspires designers, whether they are creating fashion or furniture, computers or cars.
For packaging, black can add a stylish, slightly provocative edge, or differentiate a product from the competition. It lends brands a special status that consumers really appreciate. With this in mind, O-I – the world leader in glass packaging for food – has launched a new type of glass: Black glass.
While Black glass has been available in the past, O-I has now developed a revolutionary new technology that makes it viable, with maximum flexibility and an affordable price-tag.
"Until now, the cost of Black glass was prohibitive and limited supply to highly exclusive products. Thanks to this innovation, it can now emerge from the ultra high-end of the market. Black glass by O-I can be used in more mainstream premium markets, reaching a wider variety of segments such as spirits, wine, beer and food," explains Gilles Desheraud, Spirits Marketing Manager for O-I in Europe.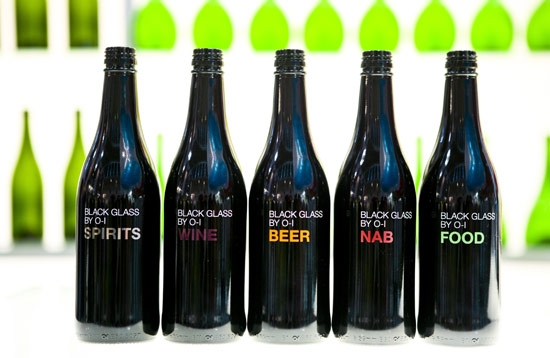 Black glass by O-I offers another major advantage in terms of quality and product safety. The innovative technology used to manufacture the glass differs significantly from the standard colour feeder method of colouring. The new process enables the same series of checks to be used on all production lines, ensuring the same level of quality as traditional glass without the need for line modification.
"Until now, in addition to its price, Black glass posed a safety problem because traditional instruments were unable to perform certain quality checks due to the opacity of the colour. Black glass by O-I is incorporated into production planning just like any other shade of glass, without any specific modification of the lines and at the same rate," adds Gilles Desheraud.
Over and above the aesthetics – which make the bottle very distinctive on-shelf – the black colour also offers an important functional benefit. It has the intrinsic advantage of protecting the contents from UV light, ensuring that products with a long shelf-life remain in optimum condition. This enhances the existing benefits of glass: inert and pure, glass preserves flavour and aroma perfectly, and poses no health risk to the consumer.
While several European projects are currently under development, Black glass by O-I has already debuted in the form of an iconic bottle for Mexican beer brand Simpatico, reintroduced this year onto the American market after an absence of 20 years.
"Our partnership with O-I started two years ago and has focused on the challenge of developing the first beer bottle made entirely of black glass, without using a surface treatment coating. The new design is the result of the innovation and quality O-I has brought to this challenge," says J. Michael Bowers, president and CEO of Simpatico USA.
To gauge consumer expectations in relation to black glass, O-I has launched a major study in France (in collaboration with research company Ipsos) and in the United Kingdom (with representative sample groups). The results of this study will be available at the beginning of 2011 and will be made available in a separate announcement.
Enhancing the intrinsic aesthetic and functional advantages of glass, the future looks bright for Black glass by O-I.