The PLA is compounded to improve properties so that it can be used as a drop in replacement for petroleum based plastics such as PE, PP and PS. There is a new 3-layer film with high clarity and 30-50% renewable content for applications including the back film of diapers, frozen McCain food bags and form-fill-seal.
Additives corporations have studied the appropriate agents for PLA. Clariant International has found that the light stabilizers and anti-blocking agents used for polyesters such as benzotriazoles and fatty acid esters respectively, can be used for PLA as well. There are also special masterbatches like the CESA-extend chain extender for melt stabilization. In terms of mineral fillers, talc and calcium carbonate can be used as nucleating agents and to increase stiffness. Clariant also has a premium range of naturally sourced pigments and additives which are "OK Compost" certified including a beeswax, a pale yellow color from fruit and an antioxidant based on vitamin E.
Charlie Martin of Leistritz in New Jersey is well-known for his expertise in twin screw extrusion and he has applied his extensive knowledge to the compounding of and the machine should be of stainless steel to avoid the corrosive effects of PLA. There should be provision for devolatilization of undried PLA. The material is heat-sensitive, so cooling systems are important.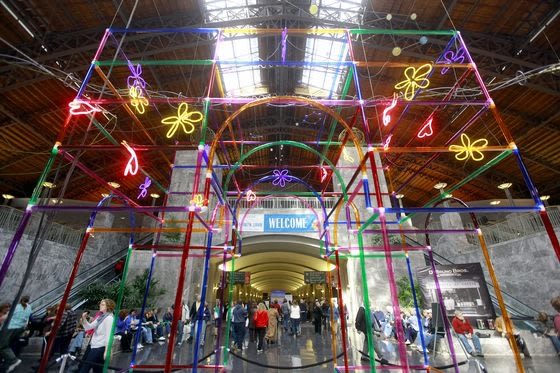 The torque should be increased, for example by changing the shaft design to include more splines and asymmetric geometry, as well as by upgrading the gearbox. Gala Industries as worked on pelletizing systems for bioplastics.
Natureworks LLC is probably the best known supplier of PLA worldwide. It produces three lactide monomers from corn, L-lactide, meso-lactide and D-lactide, and these are polymerized using a catalyzed ring-opening process.
The monomer ratio can be used to develop different properties. There are film, fiber, thermoforming, injection molding and injection stretch blow molding grades. The Ingeo 3801X injection molding materials is compounded with a core-shell impact modifier from Arkema, a dioctyl adipate crystallization accelerant from HallStar, mineral reinforcement from Specialty Minerals and a nucleating agent from Takemoto Oil & Fat Co. The company is currently developing improved injection molding and higher performance materials.
Another company that is working on new PLA compounds is Techmer PM. The company has molding and film grades, some of which are compostable and have FDA food contact approval. It has worked with talc as a natural mineral filler and with a yeast filler, which adds bio-based content. Its PLA masterbatches have applications in nonwoven fabrics.
Brand owner Kimberly-Clark is "weaving environmental sustainability into its products" and has been named as a leader in the Dow Jones Sustainability Indexes. Current projects include testing high percentage bio-based materials to replace 100% petrochemical plastics.
This includes polyethylene-starch blends to manufacture films., which requires plasticizers and compatibilisers for processing, and gives films that have a suitable modulus for flexible packaging.