The uBin scrap collector, designed and manufactured by Green Warehouse Ltd., Bristol in the UK, won first prize in the 'Best Recycled Product 2013' competition, offered by EPRO, the European Association of Plastics Recycling and Recovery Organisations, and the supporting organisations PlasticsEurope, EUPR, EUPC and ACR+. The second prize winner were the vinyPlus façade panels from the German Vinylit Fassaden GmbH. This new, sustainable product connects 100% recycled PVC with a high quality and maintenance-free surface. Chosen for the third place was the eco-core from Wellman International, in Ireland, a sustainable polyester staple fibre manufactured from post-consumer PET bottles.
In 2009 EPRO started to invite manufacturers of products containing recycled plastics to participate in this annual competition. Since then the key objective has continuously been to raise awareness of the value and versatility of used plastics whether it is post-consumer or post-industrial, promote the opportunity to recycle this material and recognise it as a valuable resource, and not waste. Meanwhile, the competition has seen nearly 150 entries from 25 countries and witnessed an increased range of applications for recycled plastic.
The uBin was announced as the winner of this award at the Identiplast Congress in Paris on 28th November 2013. Manufacturing engineer Will Hayes, Owner and Managing Director of Green Warehouse comments: "Our stylish uBin is dedicated to encourage responsible recycling of rubbish in offices, schools, universities, hospitals and other typical working environments. That in itself is commendable enough, but the uBin is actually made from UK sourced post-consumer plastic, such as used water bottles, yoghurt pots, coffee cups etc." His now honoured idea is already proving successful in the marketplace.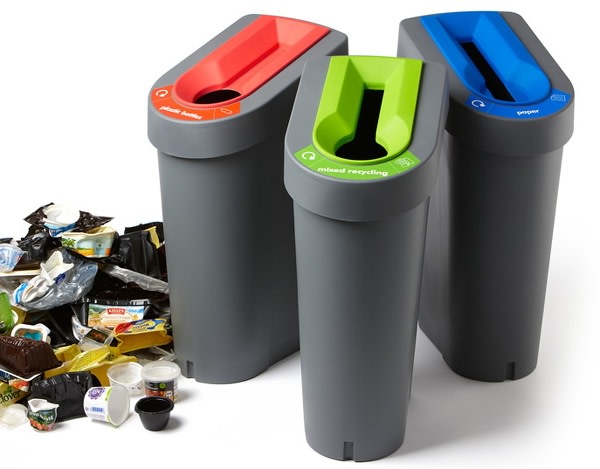 EPRO's Co-Chairman Géraud Delorme explains the idea behind the 'Best Recycled Product' contest: "Plastic packaging design, improved collection schemes, advances in sorting technology together with a greater range of reprocessing opportunities and applications means that the need to send many plastics to landfill is gradually decreasing. Therefore it's key that we ensure that the consumers and industry recognise this progression and continue to sort and collect this material for recycling. One of the most important ways of doing this is to raise the awareness of the products made from recycled plastics, in turn showcasing a wide range of recycled products, thus creating a demand and maybe an appetite for new companies to start to design and manufacture more products made from recycled plastic - promoting the cycle of plastics. This competition also enables the industry to further demonstrate their commitment and work in the area of Corporate Social Responsibility, and for the consumer to more fully understand the scope of their environmentally friendly actions."
All entries have to meet a couple of criteria, including containing a substantial percentage of post-consumer/post-industrial plastics (50% and over), being a marketable product or a product that entered the market in 2010 or later, being sustainable and having been produced in Europe. In 2013 a panel consisting of representatives of EPRO, PlasticsEurope, EUPR, EUPC and ACR+ from across Europe has assessed the entries and pre-qualified three participants for Identiplast, where the final ranking from 1 to 3 was chosen by the audience.