For those looking for information on industry trends, innovations and the latest topics at the Fakuma, a visit to Arburg was a must. Highlights were the two large hybrid machines, the Allrounder 1120 H and Allrounder 920 H, both with a new design and featuring the new visionary Gestica control system, as well as the new practical example of Industry 4.0. Ten innovative exhibits, most of them turnkey systems, demonstrated the efficient production of plastic parts, ranging from additively manufactured PP functional components in single-unit batches and multi-variant moulded part production on demand through to the high-volume production of 7,700 IML tubs per hour. Ten additional exhibits were presented on partner stands.
"We are very satisfied with the Fakuma 2017. We received many firm enquiries, business is excellent – for our customers from all industries as well as for us. During such boom times, production-efficient machine technology, individually tailored solutions and reliable service are especially in demand," concluded Michael Hehl, Managing Partner and Spokesperson for the Arburg Management Team. "Moreover, topics such as Industry 4.0, host computer systems and additive manufacturing are becoming increasingly relevant for our customers. In Friedrichshafen we were once again able to impressively demonstrate that we can offer not just the suitable smart machine technology for any requirement, but that we are at the customer's side as a technology partner." There was also a great deal of interest at the special recruiting stand which industry pioneer Arburg has provided at the Fakuma since 2015 for the purpose of meeting professionals and recruiting new employees.
Premiere of second Allrounder in new design
The unmistakable highlights at the Arburg trade fair stand were the two hybrid large machines, the Allrounder 1120 H and Allrounder 920 H with a new design and featuring the new visionary Gestica control system.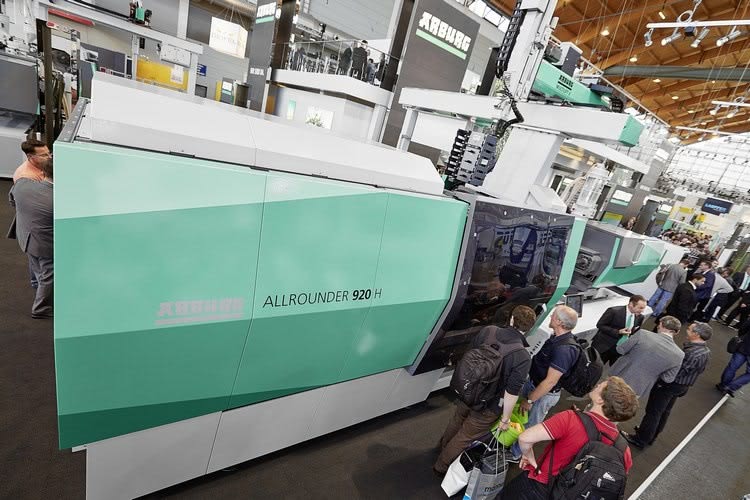 The new-look Allrounder 920 H with a clamping force of 5,000 kN made its debut in Friedrichshafen. The exhibit was equipped with the linear Multilift V 40 robotic system and produced 720-gram housings of which seven units at a time were packaged in boxes inline.
The Allrounder 1120 H with a clamping force of 6,500 kN, which produced the popular folding step stool in the Arburg design as part of a sophisticated turnkey solution, can be ordered by customers worldwide as of the Fakuma 2017. At a separate station, Arburg experts presented the functions of the new Gestica control system featuring the look and feel of smart mobile devices, and were involved in discussions with customers and interested parties virtually non-stop. The feedback on the new machine design and the new control system was very positive throughout.
Industry 4.0 in practice: Tension straps "on demand"
With regard to "Industry 4.0", "Digital Transformation" and "Smart Factory", products such as the Arburg host computer system (ALS) as well as the integration of IT solutions into the production process are much in demand.