Since 1903, Apex has provided expertise and innovation in the engineering and building of part handling and printing systems for a diverse range of products. The latest Apex's advancements in product decorating can greatly enhance output capabilities of its partners and allow them to reach new markets.
At K2016, Apex will be displaying:
C-9 Syringe Printer
The C-9 is packed with enhancements to offer superior print quality and ease of operation while simultaneously delivering consistent speed and reliability. The C-9 offers:
A low cost solution for high quality decoration
2-color, 360° print
S-10 Digital Ink Jet Printer
The S-10 Digital Printer is Apex's next generation of 3-dimensional print solutions that will broaden the range of customized printable applications. The system's features include:
Precise placement accuracy for higher resolution, clean lines, and additional detailed definition
On-demand printing, short turnaround time, and artwork changes on the fly
High speed, multi-color, single pass, continuous motion printing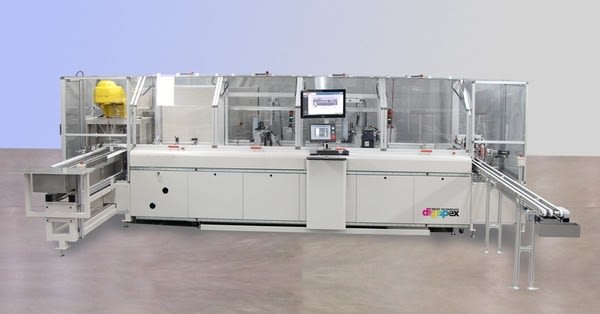 C-4000 Closure Sidewall Printer
The C-4000 is a very popular system for printing closure sidewalls. The C-4000 includes:
A Ferris-wheel design with dual lanes to enable speeds of 250 to 300 parts per minute
Quick changeover times to accommodate varying part sizes
C-30 Cylindrical Part Printer
The C-30 is a fully automatic mandrel based machine capable of printing 360° around full length printing. The C-30 offers:
Up to 2-color printing capability
Speeds exceeding 160 parts per minute
Optional components such as feeders, pre-treaters, orientation units, curing units, inspection systems, and packaging systems.
Partnership
Apex Machine Company and its strategic partners, Service Engineering Inc. and IMD Vista, are now able to better support the growing market for complete turnkey packaging machines. With Apex's expert knowledge of parts handling and printing solutions and SEI and IMD's expertise in feeding and inspection systems, the company now offer complete turnkey integrated printing and packaging systems.
At K 2016 Apex will be exhibiting in Hall 4, Stand E-22.