Amcor Rigid Plastics, the world's leading producer of PET packaging, has made a major advancement in weight reduction with the development of the lightest 16oz PET salad dressing bottle in North America.
The 16oz Curve, a stock oblong container, weighs in at just 29.5g, almost 20% lighter than the industry standard (35.3g). It also beats out a competitive 30.4g PET bottle, which until now was the industry's lightest salad dressing container.
The superior design allows the bottle's top load strength to be significantly higher than that achieved by other lightweight plastic alternatives. - Our extensive Finite Element Analysis (FEA) capabilities and lightweighting experience allowed us to dramatically reduce weight without compromising too much on performance and ultimately deliver an attractive container that meets the sustainability demands of today's packagers and brand owners - said Laurie Goetz, Amcor technical manager.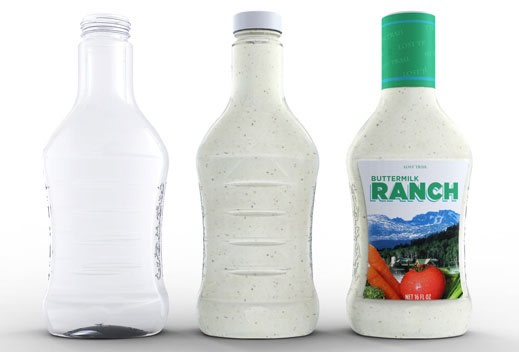 The 16oz Curve has a 33mm finish with an oblong design and rectangular footprint which maximizes cube efficiency, therefore making the most of storage capacity on the pallet, in the warehouse, on the truck, and most importantly, on the shelf. Another key feature is the use of Amcor's modular mold program, which provides customized shapes and decorations at a significant cost savings over traditional tooling.
After performing extensive retail studies, Amcor created a more sustainable package by incorporating feedback from brand, marketing, and engineering managers from a broad range of customers. The final design was put through several testing phases where Amcor utilized FEA to build in improved top load and overall strength and performance without compromising the bottle's design.
The 16oz Curve also offers a wide range of sustainability benefits including a reduced carbon footprint, recyclability, and reduced transportation costs. Thanks to Amcor's proprietary lightweight technology, the nearly 6-gram reduction in bottle weight means far less material is needed to produce the package.
The 16oz Curve will start production out of Amcor's Itasca, IL, state-of-the-art manufacturing facility and will be available with up to 20% food-grade PCR (post-consumer resin).