Amcor PET Packaging introduced the new Amcor Big Mouth, a high-performance wide mouth PET (polyethylene terephthalate) container. The industry leader for hot fill applications, Amcor`s newest product is designed for pasta sauce, apple sauce, jams and jellies, salsa and other food products filled at temperatures up to 195° F.
In addition to being unbreakable, lightweight and offering environmental advantages over glass, Amcor`s Big Mouth PET solves processing line performance issues that have plagued other plastics entrants in the hot fill foods marketplace.
- Big Mouth PET containers offer an ideal answer for food processors squeezed by rising glass prices and supply limitations, as well as energy costs and other factors that also impact distributors, retailers and consumers nationwide - said Lisa Petersmark, Business Director, Food and Marketing, for Amcor PET Packaging. It certainly is one of the lightest weight PET jars in the marketplace. Big Mouth also avoids problems that processors tell us have occurred with other PET jars in hot fill food lines, particularly capping and seal integrity issues.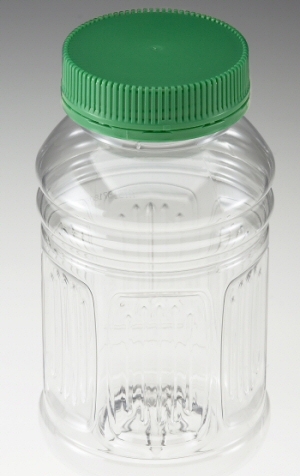 Dr. Terry Patcheak, Amcor Senior Scientist, said: - Dimensional consistency in the container finish area is absolutely critical for proper closure performance, and existing blow-trim package designs make achieving this extremely difficult. It can be done. We do it daily for numerous hot fill beverage customers, as well as other food product applications.
- However - added Patcheak - considering the unique demands posed by hot fill foods, our experience in hot fill and blow-trim technology drove us to a new, patent-pending design. Unlike traditional PET jars, we developed a process which ensures consistent finish dimensions on every single jar.
In addition to its proprietary finish design, Amcor`s version of blow-trim technology is enhanced, too. Other manufacturers simply trim off the top after blow molding the jar, which leaves a relatively slim and sharp landing area for cap application.
- We add another step in the process - Petersmark points out - which gives Big Mouth jars a flatter, smoother and wider surface that allows for improved seal technology.
Results from Big Mouth hot fill trials have confirmed the success of the Amcor design, technology and process advances. The company reports there have been no issues with closure application or removal.