The PakFormance system by Sealed Air Cryovac is a dynamic combination of IS software and hardware, equipment and modules, and services.
This integration platform delivers an unrivalled means of controlling and supervising food packaging processes. It provides value through the effective use of information in a proven total systems approach. The PLC and PC based platform supports the exchange of an extensive range of equipment and product related data on the network, facilitating multiple functionality. PakFormance brings customers of facilities ranging from single lines to entire packaging rooms, increased productivity and efficiency, with significantly reduced operating and service costs.
The three separate packages comprising the PakFormance system – Visualization, Production and Advanced – offer increasing levels of functionality. The PakFormance Visualization module manages the packaging line, saving the relevant real time and historical data. It enables continuous monitoring from one or several local or remote screens, informs of specific events and analyzes performance for cost control. It is also capable of identifying and classifying products for trace-ability, process automation and product flow control. Optional add-ons of this package are remote maintenance and support, plus data exchange. The second module, PakFormance Production, adds batch and order management, as well as report configuration, to the system. Finally, PakFormance Advanced equips the customer to configure and manage the complete system autonomously.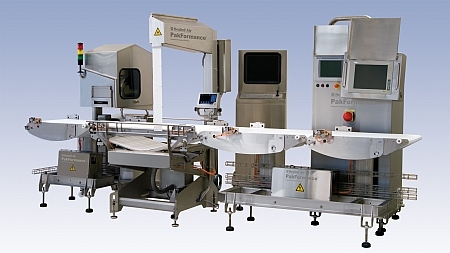 An Ethernet network connects the PakFormance equipment to the software. There are four key equipment modules available and all new Sealed Air equipment will be compatible with the system. The Product Identification Module (PIM) has a touch screen, enabling product identification, batch management and centralized machine control. A Product Sizing Module (PSM) automatically measures naked products to facilitate bag size selection, product grading and line flow control.
Labels can be printed and dispensed with the Product Labelling Module (PLM), while the Queue and Curved Conveyor Modules (QCM and CCM) are line controlled conveyors for the trace-ability of naked or packaged products. Sealed Air offers customers a series of tailor-made smart services to maximize the benefits and values of the PakFormance platform. This includes overall project management, engineering services and IS maintenance services integrating support and upgrades.