Maximising Propylene Yields 2016
Organizer

ACI Europe, 5/13 Great Suffolk Street, London, SE1

Phone:

+48 61 646 7025

www:

e-mail:

pbaziuk@acieu.net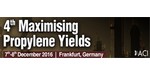 Exploring Alternative Processes to Capitalise on the Propylene Supply Gap

Propylene is a building block for many end products and markets. It is one of the largest organic hydrocarbons produced and consumed globally. Propylene is a highly explosive gas used entirely to produce downstream derivatives, which are raw materials for a variety of industrial and consumer products. Key end markets include plastics, solvents, paints and coatings.

Over 80% of the propylene produced as a by-product of the following 2 major manufacturing processes in the world:
Ethylene production via "steam cracking"
Gasoline production via "fluid catalytic cracking" (FCC)
FCC and Steam Cracking technologies process mainly liquid feedstock to produce gasoline, ethylene and by-products. (e.g. propylene)
The recent shift to using lighter feedstock's in "steam cracking" technology has resulted in a decrease in the volume of by-products, particularly in North America and Middle East regions where shale gas and ethane gas are the predominant light feedstock.
As the "steam cracker" feed slate have gotten lighter, North America and Middle East have been structurally short of propylene (C3).
Bridging the supply gap of propylene, the industry is looking for new technologies to boost the growth of propylene supply and offset the increasing Chinese demand.