Ticona Engineering Polymers announced that two Vectra liquid crystal polymer (LCP) specialty grades E488i and E471i received an Underwriters Laboratories (UL) V-O classification, according to the global independent safety science company's UL 94 plastic flammability standard for all colors and at wall thicknesses of 0.15 millimeters.
Both the Vectra E488i and E471i specialty grades offer very low warp characteristics, which is important for injection molded, lead-free solderable electrical components with ultra-thin wall thicknesses.
Designed for use in eco-friendly electrical and electronic components and available in different colors for quality and assembly purposes, these specialty grades offer unique property profiles that can help E/E customers meet demanding lead-free soldering and halogen-free requirements," said Ed Hallahan, technical marketing manager Ticona High Performance Polymers. "Now, the Vectra E488i and E471i specialty grades from Ticona provide a UL 94 V-0 classification for thin-walled parts in all colors."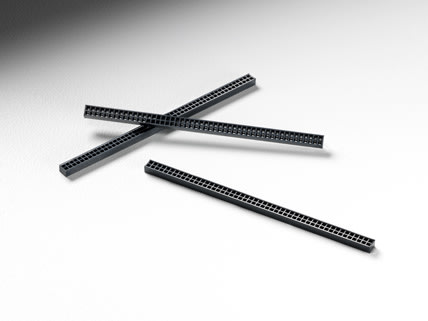 The Vectra LCP ultra-low warpage E488i grade from Ticona is specifically designed for use in flatter molded parts such as CPU sockets and DIMM connectors that must maintain extremely tight dimensional tolerances after lead free reflow soldering temperatures of 260 Celsius. Formulated with enhanced mechanical properties for design flexibility, the 45 percent glass-fiber and mineral filled Vectra E488i grade offers: improved flatness, heat deflection temperature (HDT) at 260 degrees Celsius (500 degrees Fahrenheit), high flow characteristics to fill thin, complex flow paths at faster cycle times.
The 35 percent glass-fiber and mineral filled Vectra E471i grade is designed as a low warpage LCP with excellent properties for use in long type connectors. It offers a good balance of: mechanical properties, HDT at 265 degrees Celsius (509 degrees Fahrenheit), improved flow, improved flatness.
Vectra LCP is widely used by customers to make eco-friendly connectors, bobbins, switches and relays that meet Restriction of Hazardous Substances Directive (RoHS) and European Waste Electrical and Electronic Equipment (WEEE) directives. In addition, customers and original equipment manufacturers are striving to accelerate the production of green and safe products.