The new packaging solution from Multivac enables pharmaceutical and sterile medical products to be packed fully automatically with GMP compliance in a wide range of batch sizes.
It meets the requirement for quick line clearance as well as for optimum machine access. Thanks to its quick and easy format change, pharmaceutical companies, manufacturers of sterile medical products and contract packers can achieve a high degree of packaging diversity with varying batch sizes.
Sterile medical products and pharmaceutical drugs are increasingly these days being produced to suit specific country requirements, and for this reason they are often packed in small batches.
Flexibility and cost effectiveness of packaging lines are important features for global pharmaceutical companies, manufacturers of sterile medical products and contract packers. Multivac is currently developing for this target group a new integrated packaging system for the fully automatic packaging of sensitive products in both large and small batch sizes.
With the new thermoforming packaging machine, Multivac has introduced a far-reaching segregation of the packaging process area from that of the integral machine technology. In order to achieve this, those installed units such as hoses, cables and valves have been moved from the interior to the rear of the machine. In this way the machine is also optimised for the requirements of quick line clearance. The visibility and access into the machine have been further improved by these design measures.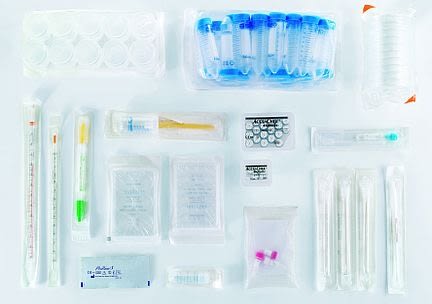 The new packaging solution from Multivac is in addition de-signed for frequent, reproducible and rapid format changes. Multivac has long offered a drawer system for the interchange of die upper and lower sections, which facilitates the user-friendly chang-ing of forming and sealing dies. This enables all the format parts to be changed without tools on the operating side of the machine.
The thermoforming packaging machine can be equipped with 'complete cut' tooling (KPS) for individually separating the sealed packs.
This offers significant advantages in the cutting of rigid films which are combined with paper or Tyvek top webs. The quality of the cut edge is higher and fewer particles are released during the cutting process. So that users can in future also change the KPS tooling quickly and simply, Multivac is now similarly offering tooling change systems, which are based on the drawer system.
For the film advance in the newly developed thermoforming pack-aging machine, Multivac continues to rely on the use of the well proven film transport chain. This provides an absolutely precise positioning and processing of printed webs, as well as of sensitive flexible films and of wider film webs. This film advance system also enables packs with larger draw depths to be produced.
There is a wide range of handling modules available for selection from Multivac for pack converging and further handling. For the loading of finished packs into outer cartons, it is possible to remove the packs directly out of the cutting tool and to place these into the outer carton. During this process reject packs can be automatically separated out and deposited into a container. This packaging solution therefore ensures the maximum control over each individual pack, as well as the maximum flexibility in their further processing.
The reliable and efficient packaging of sterile medical products and pharmaceutical drugs demands the very strict application of the highest quality standards. Multivac's user-friendly line-motion control via the HMI 2.0 operator interface, as well as the highly sensitive sensor technology of the machines, ensure that a consistently high product quality is maintained, as well as an overarching quality assurance and a track-and-trace function for meeting the serialisation and marking requirements of individual countries.