Engel e-mac: all-electric for medical technology
Liquid silicone rubber (LSR) continues to gain importance worldwide. One driving force behind this is medical technology. To combine maximum precision with maximum efficiency and maximum cleanliness, all-electric injection moulding machines are used. During the DKT, Engel will manufacture seals for respiratory masks in an all-electric ENGEL e-mac 170/100 with a clamping force of 1000 kN and integrated Engel viper 12 linear robot. With its particularly compact footprint, the e-mac injection moulding machine optimally meets the growing demand for increased output per unit area.
Engel will implement this exhibit together with its partner Elmet (Oftering, Austria), who supplies the 4-cavity mould as well as the metering equipment of the type TOP 5000 P. As system supplier, Engel integrates all peripheral LSR processes in the e-mac's CC300 control unit so that the complete process can be set and controlled from the operating panel. For this application, the LSR material will be provided by Dow (Horgon, Switzerland). A reliable, high-precision injection moulding machine is prerequisite for the manufacture of demanding liquid silicone rubber products that are low in flash and do not require rework. The e-mac combines these properties with speed, energy efficiency and flexibility.
To produce a constant high quality even in varying ambient conditions and fluctuations in the raw material, iQ weight control is used. The intelligent assistance system from Engel's inject 4.0 series adapts the injection profile as well as the switchover point and the holding pressure profile to the respective conditions individually for every shot, thereby eliminating external influences even before a single reject is produced.
Engel elast V: vertical machine for high ergonomics
An Engel elast 2700/400 V vertical machine will represent the company's broad spectrum of hydraulic injection moulding machines for processing various types of rubber and silicone as well as TPE in Nuremberg. During the four days of the event, Engel will use the machine to produce frisbees for dogs from an EPDM rubber provided by Mesgo (Gorlago, Italy). In this application, the mould is provided by ORP Stampi (Viadanica, Italy).
Thanks to their modular design, the Engel elast V vertical machines can be adapted optimally to a particular application. Vertical machines are often used when manual work steps are necessary. The low operating height of the ENGEL elast V ensures particularly ergonomic work. The standard elast 400 V with a clamping force of 4000 kN is equipped with the energy-saving servohydraulic ecodrive.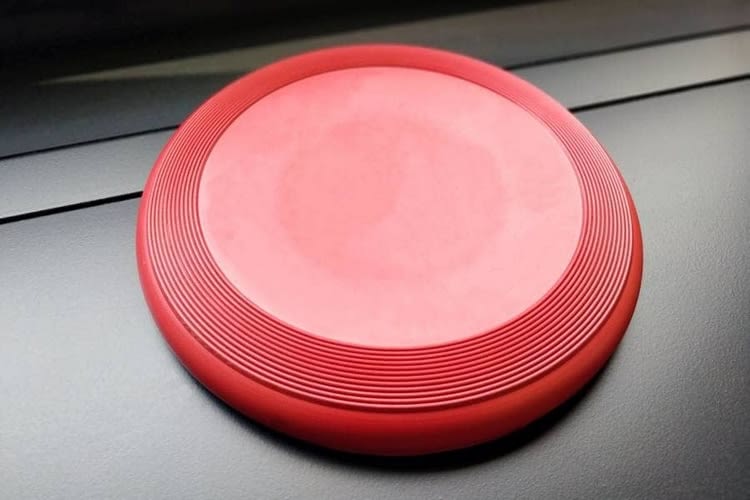 Frisbee for the dog: the red disc will be produced from EPDM in an Engel elast 400 V during the DKT
Source: Engel