The overall goal for produce packaging must be to contain food in the most cost-effective way that satisfies industry requirements and consumer desires while also maintaining food safety and minimizing environmental impact.
Producing packaging that reduces total waste by extending the shelf life of foods is essential for the entire produce industry. Additionally, convenience features such as ease-of- access handling-disposal; product visibility, reseal-ability and microwave-ability, must be a consideration to help reduce overall waste.
"Roughly one third of the food produced in the world for human consumption every year — approximately 1.3 billion tons — gets lost or wasted, according to a 2011 FAO-commissioned study. Fruits and vegetables, plus roots and tubers have the highest wastage rates of any food."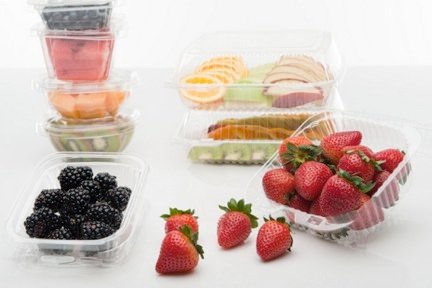 And why produce packagers using DPET sheet gain back an advantage over their competitors with its enhanced sustainability when weighed against other options. Compared to traditional plants, OCTAL's DPET sheet uses 67% less grid electricity per kg of sheet, a fact that has been verified by independent, third party sources such as Intertek Expert Services, an internationally recognized, independent testing service. That translates to a carbon footprint 25% below that of traditionally produced APET films according to the Intertek study.
To verify earlier positive results, OCTAL recently requested that Renewable Choice Energy provide an analysis of OCTAL's overall sustainability efforts. This initiative made OCTAL one of the first companies in the packaging industry to track and publicly disclose an overall waste, water, and carbon footprint, as well as an in-depth product-level carbon footprint.