Multiclose: Sensible packaging with added value
Along with services that truly make sense, the developers at Südpack are dedicated to sensible packaging solutions with added value for manufacturers and consumers. One of the premieres presented at Interpack is the new Multiclose packaging concept. This practical, resealable bag consisting of a top and base film combined with the innovative Multiclose resealing stripcan be processed on all standard thermoforming machines without major modifications - no need to invest in new machinery. TheMulticlose concept also fascinates customers with its wide range of design options for marketing. Top and base film can be printed as desired and the shape of the packaging adapted to attract attention at the point of sale. Consumers also love Multiclose's simple reclosable seal that preserves product freshness and aroma after opening.
Practical approach: Südpackresealable closures
The family of Multipeel films guarantees easy opening and resealing for long-lasting freshness. "Resealable closures are an extremely important factor in the film packaging experience. They guarantee flavor and freshness and ensure that the product always looks great, even after opening," Johannes Remmele explains. "We addressed this trend 15 yearsago with Multipeel, which helped resealable packaging gain international market acceptance. Since then, we have continuously expanded our Multipeel family for new applications." Peel xPET, a crystal-clear top film, gives consumers a clear view of the product inside. A peelable closure makes it easy to open the packaging. This top film also sets benchmarks in production. Peel xPET seals securely on all PET trays and films from temperatures as low as 145°C, even if they are made of crystalline PET or PET treated with silicone or antiblock.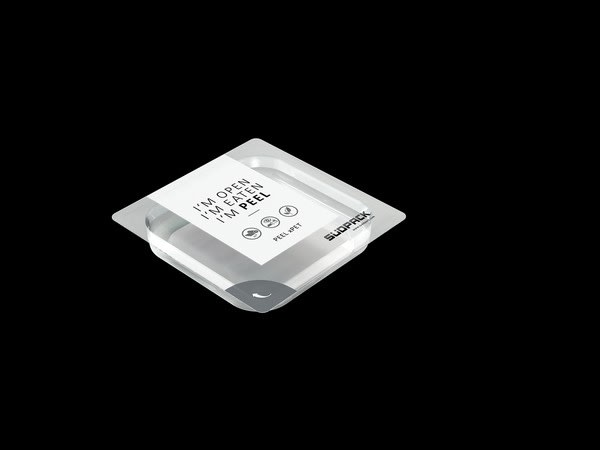 The xtear opening aids offer consumers real added value and are produced by Südpack using a modern laser process. xtear makes it very easy to open the composite film and is produced with a precision laser beam, without harming the barrier properties - the product remains impermeable to oxygen. A micro perforation for gas exchange is also possible with the laser procedure. The packaging is no longer just a means to an end but becomes a significant part of the product experience.
Meaningful and sustainable: Veraplex World
The same is true of the Veraplex World films, a collection of five different solutions for a wide range of different products. All of the Veraplex World films feature specific properties that create the best possible product experience for consumers. Veraplex Drum, a shrinkable lid film, Veraplex Protec, a prefabricated bag used chiefly as transport packaging, and Veraplex Plus, a Veraplex film laminate, are all highly transparent for a crystal-clear view of the product inside. The reduced thickness of Veraplex World films is also great in terms of sustainability.
Product development at the highest level
Meaningful packaging and concepts that appeal to all the senses are based on intensive research and often years of development work at Südpack. The film experts from Ochsenhausen don't leave anything to chance. They also work with state-of-the-art technologies in the R&D department. The newest example of this is the multiXtrusion test facility used by Südpack to enhance its own capacity for innovation as well as that of its customers. It enables the film experts to map and test all standard film production methods as realistically as possible. New packaging solutions can then be developed more rapidly and cost-effectively.