A report from industry consultants, AMI Consulting, published in February 2016, pinpoints that in recent years Thin Wall Packaging has become a space of dynamic structural changes in the rigid plastics market.
With the consumption of 3.1 million tonnes of polymer in 2015, Thin Wall Packaging is a large and relatively stable market in Europe. Nonetheless, the search for higher margins and market positioning causes the industry to focus on improvements in material and process engineering. The past few years have been particularly productive for the industry and advances in process technology synergistic with polymer science have enabled changes which have facilitated the emergence of new applications.
Concomitant with these changes have been the changes in the supply chain. The industry actively consolidated and the leaders attempted to re-define and re-structure their businesses to maximise technical competence and to create a stronger negotiation platform. This has driven the disposal of non-strategic business units and targeted investment. There has been significant site rationalisation, exchange, production re-location and acquisition amongst the leaders.
Multi €b converters have started emerging in the global multi-sector packaging arena, including Reynolds (Rank Group), Berry Plastics and Amcor. RPC Group following the acquisition of Promens and Global Closure Systems, and Coveris have reached these ranks as well.
In 2015, the top 10 converters of Thin Wall Packaging in EU28+3 accounted for 43% of the market. Outside of the leader base, the supply in Europe remains relatively fragmented and more consolidation is expected.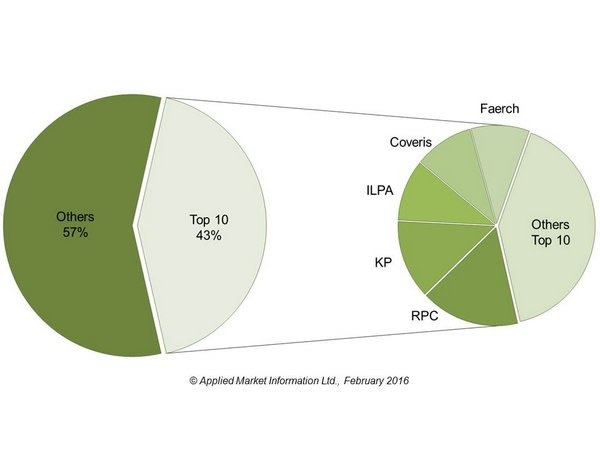 Retailers remain ever stronger customers of Thin Wall Packaging, driving improved quality standards of value products. Brand owners employ a range of packaging solutions to capture discrete marketing opportunities, using multiple formats. This enables brand owners to monitor and compare costs, alter the packaging mix and spread risk. Over the next five years those suppliers with a focused business strategy are expected to continue to strengthen their market position.