The Multipak Palletizer Packaging System from Proco Machinery Inc., a leading supplier of automation systems for the plastics container industry, is now offered with several enhancements for greater performance and flexibility for bottle manufacturers.
The new features include an automatic pallet feed magazine which stores and feeds the pallets onto a pallet conveyor which efficiently moves pallets in and out of the system. Other enhancements include an automatic slip sheet magazine which stores slips sheets and places them in between each pallet layer and an automatic top frame magazine which stores top frames and places them on top of the pallet.
"The Multipak system's versatility and flexibility have been well-received by blow molders, enabling them to lower operating costs, improve manufacturing efficiencies, and maximize their investment," explained Siva Krish, sales manager for Proco Machinery Inc.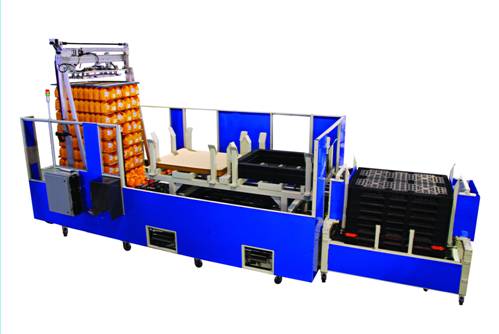 The Multipak Palletizer boasts a modular construction and operates as either a semi-automatic system or in fully automatic mode at line speeds up to 150 bottles/min. It is outfitted with heavy-duty castor wheels which allow the unit to be easily moved from one line to another. Its rectangular shape enables it to fit in most blow molding lines without occupying machine space. The unit can handle half cube or full cube pallet sizes up to 105 inches high. It can also be configured for tray and box packaging.
The Multipak Palletizer system can be mounted with different types of tooling including grippers, vacuum cups, and chucks depending on the application. Proco has industry experience to build customized tooling solutions for each project to help reduce operational costs, improve efficiencies, and minimize maintenance. A touch screen, menu-driven PLC control system simplifies operation and setup.
The Multipak system also offers significant labor savings and a highly favorable investment return with a payback of about 12 to 15 months depending on line speed. Proco Machinery has already completed a number of successful installations at custom blow molding facilities throughout the U.S.