Switching over from Negri Bossi to Sacmi, this company has decided to present the best of its offer of presses and vision systems for the closure sector. The highly acclaimed CCM48SB is characterized by its evolution, according to the lean project management principles, from the previous CCM48SA model, a machine with excellent production performance, producing up to 1,600 caps per minute thanks to significantly reduced cycle times, and extremely reduced energy consumption. The high cavity output makes this device the ideal solution for light single-piece cap production for water (molding diameters up to 33 mm), as well as making it a versatile solution for single and double piece caps for CSD (Carbonated Soft Drinks). The consistent energy savings is guaranteed by CCM (continuous compressing molding) technology, which allowed Sacmi to educate others in the closure industry worldwide. In fact, CCM consumption is equal to 0.75 Kwh/kg at its maximum production speed, which is 25% less than the best values found for injection technology. These advantages are coupled with exit defects reduced to a minimum, in the case of the CCM presented at Npe, thanks to the integrated CVS 052 (CVS 3000) vision system produced by Sacmi for real time control of the caps integrated on the CCM exit belt.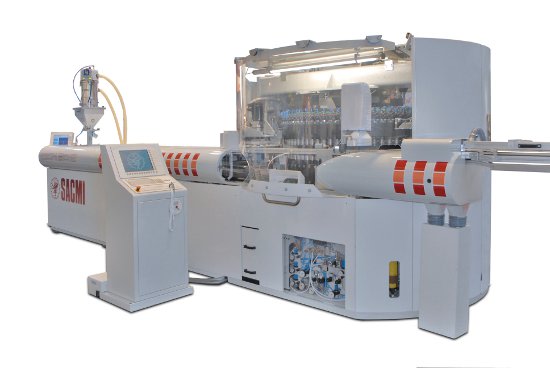 Sacmi continues to invest in vision systems with the CHS 003 "stand-alone" system that will be presented in Orlando. This system controls plastic and aluminum screw caps. A 3-camera system, which can be increased to four, guarantees complete control of the processed piece through the use of two vacuum belts. The two sides are controlled first by the internal cameras and then the outside by the other color camera that "explodes" the cap and checks the surface condition point by point, even in decorated versions. This revolutionary machine can inspect up to 120,000 pieces per hour.
There are several highly sophisticated systems that can be integrated into the basic version of this CHS. For example, the 4-camera version, the CVS 360, provides total control of lateral wall cap development, including the search for any burrs on the cap jumpers with injection-molded safety bands. It addition, it provides "Cavity Recognition" which can identify and read the number of cavities molded in the caps using an illuminator and dedicated software. This allows defect statistics to be made. Then, it can proceed to the relative rejects. Finally, the "Spark Tester" can identify micro-holes or cracks that cannot be easily identified with traditional optic systems on the base of the "electric rigidity" principle of plastic caps. Whether the base or pluri-accessorized version, the CHS family distinguishes itself for its high modularity and easy integration into existing lines to execute sample checks directly on the line or execute post-checks on batches to identify any products that do not conform to the required standards.