The Cosmetic Packaging Group, a division of O.Berk Company, has introduced the Olympia Line of flint glass bottles.
These bottles are perfect for perfumes and colognes and are available in 50-ml and 100-ml sizes with 15-mm crimp neck finishes. The oval-shaped bottles are easy to handle and display prominently on the shelf. The Olympia line can be further enhanced with optional frosting, ceramic decorating, and labeling, as well as a variety of closure options.
Some time ago O.Berk Company has introduced a new program with its vendors to present "green" packaging as an option for its various clients in the cosmetic/personal care, pharmaceutical/healthcare, food/beverage and chemical/industrial markets. Many of our most popular lines including Boston Rounds, Cylinders, Jefferson Rounds, Union Ovals, etc., are available in PCR (post consumer regrind) of at least 25%, in accordance with California mandates. Higher concentrations (in some cases up to 100%) of PCR are also available.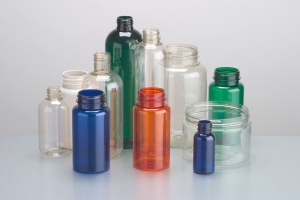 The barrier, impact, and compatibility of PCR are relatively the same in comparison to virgin resin. However, PCR has a tendency of making a bottle or jar slightly yellow than virgin resin, but this vanishes when colorant is added. All PCR containers may be frosted, decorated, and labeled. In addition, pricing is slightly higher and minimum quantities are required. O.Berk at this time did not choose PLA, or BioPlastic, since it is not recommended to hold liquids and has a very short shelf-life. Steel cans, aluminum containers, and glass bottles, all of which have high recycling rates according to the EPA, are also available.
The another important news from O.Berk Company is fact that Tuthilltown Spirits, LLC has chosen O.Berk to provide custom glass bottles and closures for its new line of Hudson River Spirits, including Four Grain Bourbon, River Rum, Baby Bourbon, Manhattan Rye and Single Malt whiskeys, as well as Heart of the Hudson and Spirit of the Hudson Vodkas. These spirits are New York's first production whiskey since the Prohibition and represent a new breed of handcrafted, top-shelf micro-distillery products.
Hudson River Spirits are sold by the barrel or in new 375ml and 750ml heavy-weight flint glass bottles supplied by O.Berk with larger neck openings and specially designed neck grooves for easy dispensing. O.Berk also supplied special 21mm cork bar-tops that are sealed with colored wax to identify each different whiskey. Each bottle label contains the year the whiskey was produced, its batch and bottle numbers further enhancing the uniqueness of these spirits.