Milliken's new Millad NX8000 has significant effect on clarity of polypropylene jars.
A ground-breaking clarifying agent for polypropylene ( PP) from market leader Milliken Chemical is set to enable an important U.K. manufacturer of premium injection moulded containers for the food, toiletry, cosmetic and pharmaceutical industries to make jars that are appreciably clearer than versions it currently offers in standard PP.
Manuplastics, an experienced contract moulder based in South Wimbledon,has trialled a new super-high clarity PP in jars intended for moisturizing creams and similar toiletries. The grade, which contains Milliken's latest high-performance clarifying agent, Millad® NX8000, would replace some current grades.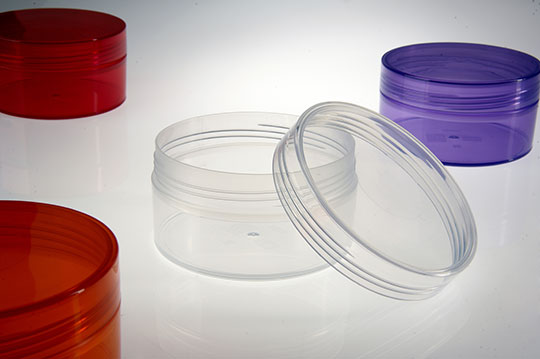 Alan Bray, Manuplastics' Sales Director, says some "blue chip" customers are currently assessing the jars, and he hopes that commercial production can begin shortly. The company has so far produced 200-mL jars with matching lids in the new grade, and is hoping to produce a full range, from 50-mL through to 350 mL.
Like other clarifying agents, Millad NX8000 is normally compounded into polypropylene by the polymer maker. Bray says Manuplastics, always on the look-out for developments to give it an edge in the highly competitive container market, was keen to find out how a resin containing the new clarifier performed in practice. According to Bray, the new material yields jars that not only have enhanced transparency but also incredible colouring possibilities. - Clear or coloured, Manuplastics can now offer standard jars in ultra-clear polypropylene - he says.
"The extra clarity allows great direct product display, while the possibility to use striking colours ensures the package will have great impact on the shelves. You can pick and chose any colour you like to give your product a distinctive touch."
Millad NX8000 offers a step change in haze reduction compared to existing clarifying agents. Its typical 50 percent reduction in haze versus the current industry standard makes highly transparent polypropylene an achievable reality, even in relatively thick wall sections.The Manuplastics jars have a wall thickness of between 1.1 and 1.2 mm. Tests have shown that mouldings up to 1.2 mm thick made from polypropylene containing Millad NX8000 have optical properties very similar to optical grade thermoplastics, including polycarbonate. This excellent clarity is maintained even in coloured grades when Milliken ClearTint polymeric colourants, designed specifically for transparent polypropylene applications, are used.
Millad NX8000 can also improve mechanical properties, due to its positive effect on the crystalline structure of the polypropylene. It has food-contact approval from both the Food and Drug Administration (FDA) in the US and the European Food Safety Authority( EFSA) in Europe.