Using two independent nozzles, the Overmoulding process associates several materials by placing successive layers over the initial mouldings. This can be effected by different mould technologies such as rotation, translation, robot transfer, core movements. At Watertown Plastics, parts are transferred into the mould cavities with a robot.
Next step for Watertown will be the use of rotary platens or index plates to reach even faster cycle times.
The French manufacturer is well-known for its comprehensive knowledge of 2-shot techniques. This includes expertise for the choice of materials, and material combinations, tool configuration and automation systems. A convincing and ambitious concept: complete technical process support from one hand.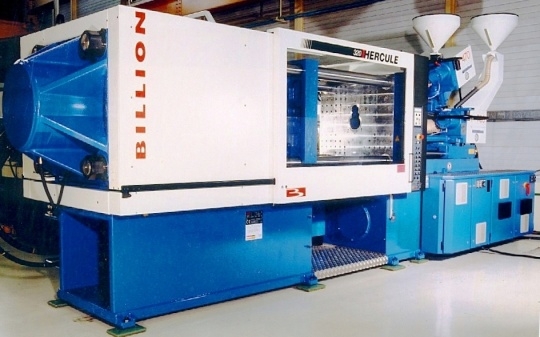 Billion concentrated therefore its efforts in North America in the demanding cosmetics and packaging branches. Exactly here is the pressure on manufacturers even stronger to offer products with higher added value.
More demanding results regarding surface finish and printing capacities, well known from Watertown Plastics within cosmetic industry, require high technological equipment and process levels. The strategic collaboration with Billion will drive Watertown towards newly designed products and improved processes. This new configuration was also a wish from Axilone, Watertown Plastics main customer in cosmetic field. Axilone produces cosmetic caps and closures in other countries - and Billion has been providing multi and single injection moulding machines to Axilone for years.
This new multi-injection production equipment symbolizes for Watertown Plastics a new step towards more innovation. With 34 injection moulding machines, together with complementary technologies such as assembly, ultrasonic welding, printing and packaging, Watertown Plastics is well armed for its future development.
Accompanied by Billion, the goal is to develop this technology and add additional capacity to fulfil growing demand from cosmetic and display devices markets.
Through the collaboration with Billion and Axilone, they demonstrate that sophisticated high value products may be manufactured in the United States under competitive conditions, as they are in Europe.