Food manufacturers can now ensure that their vertically packaged products are of the highest quality with Mettler Toledo Safeline's new ST Series metal detector.
The ST Series is specially designed for the inspection of free falling products in vertical packaging and VFFS (vertical form fill seal) applications, and offers enhanced protection from contamination through increased detection sensitivity.
Equipped with an advanced Safeline detection coil and new detector head geometry, the new ST Series provides levels of detection sensitivity that are 30 percent better than those typical in food production environments.
The system allows the inspection of free falling foods such as snack foods, cereals, confectionery, Individual Quick Frozen (IQF) products and any other products packed in a vertical form fill seal (VFFS) bag making operation. The ST Series is available in fixed and multiple frequency configurations, allowing it to meet the differing needs of manufacturers.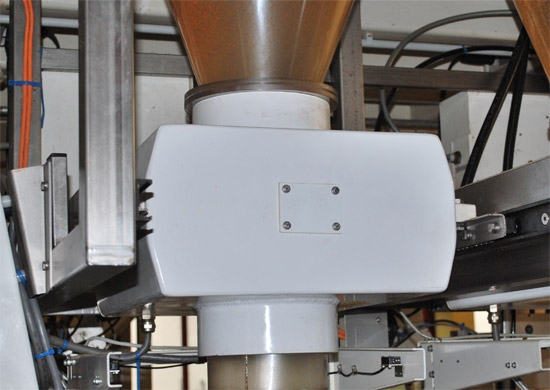 Equipped with Mettler Toledo's Zero Metal Free Zone (ZMFZ) technology, which allows metal structures and components to be positioned in very close proximity to the detector without interference, the metal detector can be installed in the restricted space between a multi-head weigher and a vertical form fill seal bag maker. With this technology, accurate detection can be achieved with the most efficient use of space.
"The new ST Series is the 'must have' for food processors using vertical packaging applications as it allows them to ensure product safety and quality. Our food industry expertise coupled with our ZMFZ technology and the most advanced detection techniques helps us lead this market and offer food processors the best solutions for their product," said David Barber, Head of Products, Mettler Toledo Safeline.
The ST Series uses a new software algorithm that boosts detection sensitivity to previously unattainable levels. This improved detection accuracy is achieved through the reduction of environmental influence and the minimisation of the product effect (the signal emitted from a product during inspection) for stronger protection against contamination.
Food quality and safety compliance can also be ensured with the ST Series metal detector, as the system answers the needs of industry food safety risk management audits and Hazard Analysis Critical Control Point (HACCP) standards. The ST Series provides full traceability and is equipped with a Condition Monitoring feature that provides advance warning of potentially adverse trends that could lead to detection system failure well before the production process needs to be stopped to address the issue. This feature enables the problem to be addressed at the next convenient break in the production process rather than actually stopping the process and creating production downtime.
To increase productivity further, the new metal detector uses the latest communications technology to enable quality managers to be informed, via email or SMS text messaging of test requirements and overdue tests as well as promptly receive any early warning alarms from the Condition Monitoring system. As an added safety measure to prevent unauthorised entry to system setting controls or incorrect usage by inexperienced users, the ST Series possesses a secure personalised dual-level login system.
The ST Series adds to Mettler Toledo Safeline's and Garvens' product inspection technology portfolio, which includes x-ray, metal detection and checkweighing solutions.