Motan has completely re-engineered its drying bins. The clean-out doors on our new LUXOR dryers are now twice as large. Not only do these larger doors greatly improve access, they also allow the hopper loader discharge flap to be cleaned easily and simply from the front. In addition, the doors are designed specifically for the bin's, preventing bridging while optimising materials flow.
To provide customers with a range of bin options better suited to their needs, we have replaced the 300-litre unit with 250- and 400-litre versions. This means that the both the system dryer and small dryer lines offer customers the same choice of bin sizes. All motan drying bin's up to a capacity of 2400 litres are made from stainless steel and are fully insulated.
Drying systems today must do more than just operate reliably and fulfil the latest technical requirements – they also need to be cost- and energy-efficient, and meet the highest quality standards.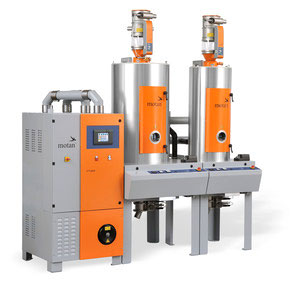 With these goals in mind, motan has taken its drying technology to the next level. We already set the pace with our ETA process drying technology, and our new ETA plus® technology goes a step further. This cutting-edge system combines our tried-and-tested temperature adjustment and waste heat recovery with the automatic control of airflow in line with fluctuations in material temperature. This slashes energy consumption by over 60 per cent in comparison to conventional drying units.
High build quality and a leading-edge control system that is tailored to the specific design of the drying systems together deliver exceptional system availability.
State-of-the-art IEC-compliant PLC control systems, based on either industrial PCs or on Siemens S7, enable efficient operation, monitoring and data management. Customers can choose from a range of options. Dryers can either be operated as standalone units or together with conveying and mixing units as part of an integrated central system, using our motan ETHERNET or CONTROLnet technologies.
To make drying systems easier to configure, the control system is pre-loaded with a database containing the key characteristics of around 70 standard materials. Data for approximately 100 further materials can be added in accordance with customer needs.
The conveying on the drying bin's are made from stainless steel and glass. They are fitted with a vacuum valve and a self-cleaning implosion filter. All LUXOR A drying units include a conveying control system for bin's and machine feeding that also regulates the conveyor blower and automatically switches to standby in the event of blower failure.
In addition, LUXOR dryers are equipped with desiccant beds and are particularly well insulated at critical points. During the heating phase of regeneration, a heat exchanger preheats the incoming air, saving energy. Dry air cools the molecular sieves in a closed-loop system. This ensures a constant low dew point and maximum drying power