Recent tests in the Superfos Research and Development laboratory show clear advantages of the new food packaging product, SuperLock: It doubles or even triples shelf life thanks to a new oxygen barrier possible on all surfaces.
The new SuperLock allow for a shelf life for up to 24 months. This is due to extremely low oxygen transmission rates obtained through a new oxygen barrier. In a SuperLock packaging products like cucumber, beet root and red cabbage can stay on shelf twice as long - or even three times longer - than in reference packaging.
The new food packaging has all the advantages of plastic while giving the end-user the visual impression and feel of glass, often used for food packaging.
A brim-full SuperLock packaging holds 400 ml which is a popular quantity for food. The extraordinary feature of the new SuperLock is that barrier protection is possible on all surfaces.
SuperLock is membrane sealed and has a twist-off screw cap which offers a perfect re-closure and re-use. The lid is easily clicked on at the filling line. Add to this an acoustic indication when the lid is closed correctly and you know that the user friendliness and product safety is exceptionally good.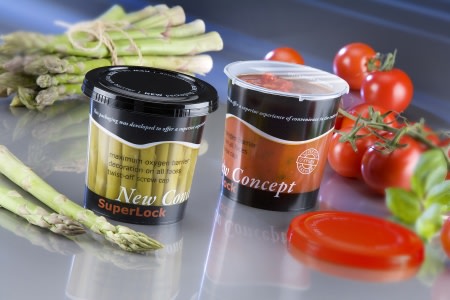 The combination of oxygen barrier on all surfaces and a membrane seal ensures an almost non-existent oxygen transmission.
SuperLock provides for a high quality in-mould labeling rendering a razor sharp print. Combined with the clarity of the plastic itself the packaging is an excellent platform for branding. The food producer can chose to have decorations made anywhere on all surfaces, and also to leave a space non-decorated, because SuperLock provides excellent transparency.
There are many convincing arguments for using plastic for packaging: plastic radically diminishes noise on the filling line and is even convenient for hot filling. Further, it is unbreakable; it stacks perfectly and results in reduced warehouse and transportation costs.
SuperLock is a new generation of an award winning packaging, now specially designed to meet barrier demands. The brilliant results of the laboratory tests combined with the outstanding qualities of plastic makes it a very promising packaging with a huge potential.