When it comes to the safe consumption of beverages on the move, a practical click-on lid is a vital part of the disposable cups use for this purpose. Kiefel's Speedformer KMD 78 POWER produces high-quality domed lids with a precisely positioned hole for insertion of a drinking straw. The firm will be presenting its latest pressure forming machine at K 2016 in Düsseldorf, Germany.
Domed lids prevent spillage of the liquid in the cup, and keep the straw securely positioned in its desired location. The latest Speedformer produces such innovative packaging solutions. This smart machine line will be exhibited at the fair along with printing stations and bag-packer devices. Two-colour digital printing with a resolution of 360 dpi allows customised designs to be applied. Individual printed designs are therefore simple to adapt, even for short production runs.
The Speedformer KMD 78 POWER produces ready-bagged lids straight from the roll of film material, with a uniquely complete configuration that includes printing, heating, forming/cutting, stacking and packing.
High performance with efficiency to match
The outstanding tool-technology on show has been developed and implemented by Bosch Sprang. The proper functioning of the lid (to prevent leaks) and its quality (including the centrally located drinking hole) are both essential. Forming is carried out using a combined positive/negative procedure that takes these requirements into account. The likewise combined forming/cutting tool uses a steel-rule blade, which trims the periphery and acts as a punching die. An automatic system removes the waste left by hole-punching.
And what's more, standard RDK80 toolsets fit the machine without requiring adaptation of any kind. A sophisticated system of tilted stacking allows even delicate products to be removed in stacks of an ergonomically appropriate height. The bag-packing device, supplied as a modular addition to the stacking station, allows the products to be packed smoothly and hygienically. A camera system ensures that only components which fulfil high quality standards are actually packed. Other outstanding features include durable components, the application of the latest technology and the observance of customer requirements. All the typical Kiefel ingredients likewise come with an optimised cost balance for manufacturers. Kiefel's latest-generation Thermorunner KTR 6.1 Speed is designed to produce the disposable cups with which these high-quality domed lids are used. Both innovations will be on show this October at K 2016 in Düsseldorf.
Kiefel Speedformer KMD 78 Power - all the advantages at a glance:
Tool interface: 1:1, designed to fit standard RDK 80 tools
Tooling and machine concept designed for combined positive/negative forming and combined steel-rule cutting and punching die
Tilted stacking for individual product/stack length, with ergonomically appropriate removal height
A complete solution: Straight from the stacking station to the bag-filler, with hygienic handling. Inline printing station. Video monitoring prior to packing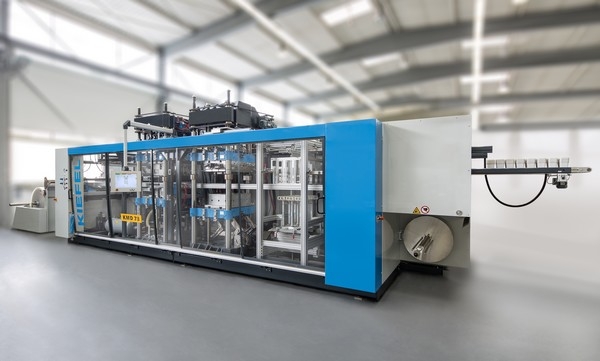 At K 2016 Kiefel will be exhibiting in Hall 3, booth E 90.