Kiefel presents the punch press KES 85, with an innovative peripheral punching technology and a KMD 78F thermoforming machine first time at Chinaplas 2016. The system enables notch-free processing of formed parts.
For punching and stacking of trays, lids and formed products with special requirements, the Kiefel KMD 78F Speedformer combined with the eccentric punch press KES 85 is now the perfect solution.
The newly developed system ensures cost effectiveness when it comes to large-scale production and impresses with its vast range of applications.
A robust machine design and an eccentric crank drive are technically indispensable to reach the highest performance level. The production speed of 120 cycles per minute is outstanding.
The vertical punching system minimizes the effect of transverse forces. All cycle movements are servomotor-driven.
This concept combines low tool costs with the best stacking solutions. Combined hole punching and periphery punching is possible. The whole tool block can be changed easily and quickly with a crane.
Convenient operation is achieved by the Siemens Simotion control system, which is especially adapted to the user's needs, and a touch screen with teaching function for new products.
The KES 85 is best suited for the production of parts of PS, PP, PE, PVC, PET and PLA and can be combined with every Inline Thermoforming Unit. Visit Kiefel at Chinaplas 2016 at Booth E1 L01.
Fact Box
Technical Data KMD 78F
Maximum forming area 760 x 540 mm
Maximum tool dimensions 780 x 560 mm
Maximum tool weight per table 400 kg
Maximum height of formed part 150 mm
Dry cycle speed 60 cycles/min
Technical Data KES 85
Maximum punching area 850 x 400 mm
Maximum tool dimensions 1230 x 495 mm
Maximum tool weight (block) 1100 kg
Maximum height of formed part 125 mm
Maximum film width 925 mm
Dry cycle speed 130 cycles/min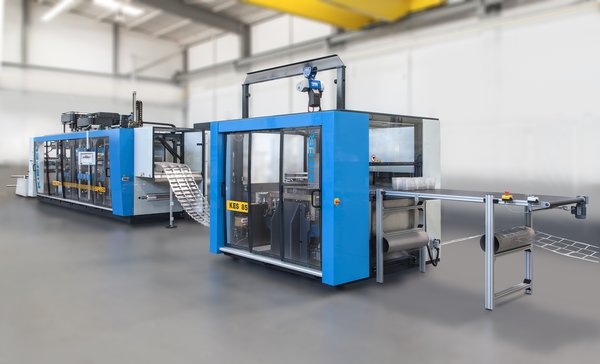 Kiefel is a world leader when it comes to the design and manufacture of machines used to process plastic film materials. The company offers core expertise in the fields of forming and joining technology. As a supplier to reputable manufacturers in various sectors, Kiefel GmbH services customers in the automotive, medical technology, refrigerator and packaging industries.
The company employs around 480 people at the headquarters in Freilassing. Kiefel is globally present thanks to own sales and service branches in the USA, France, the Netherlands, Russia, China, Brazil, Indonesia and India, as well as sales partners in more than 60 countries. Kiefel also owns the Czech automotive specialist SWA and the Dutch specialist of thermoforming tools Bosch Sprang.
Kiefel GmbH is part of the Brückner group, based in Siegsdorf, which is a global leader company in supplying machines and plant systems for the packaging and plastics industry with around 2,000 employees. Other group members: Brückner Maschinenbau is a global market leader in film stretching technology, Brückner Servtec provides a wide range of services for film stretching lines, PackSys Global supplies special machines for the packaging industry.