The Santarcangelo di Romagna (Rimini, Italy) headquartered company Italpack, which specialises in the production of filling and sealing machineries, will be presenting its new bagging and palletising machines at interpack 2001.
Founded in 1982, Italpack works in more than 55 countries worldwide. 75% of its clients operate in the flour milling and sugar industries. Pet foods Italpack machines are also extremely suitable for packing extruded dry pet foods in ready-made SOS block-bottom bags, and thanks to the flexibility of its equipment, many different bag sizes and volumes can be packed. The way food products are packaged has become increasingly important especially due to new international food standards, the need to have safe & secure packaging that can be easily transported over long distances without risk of damage and the aim of obtaining attractive, market-friendly products that are eye-catching to the consumer.
Italpack also supplies products for the construction and chemicals industries. These products were in the past packed in a very shallow and not very attractive fashion. Galvanised once again by marketing requirements and strict guidelines imposed by the large retail outlets, Italpack has succeeded in providing producers with safe, secure and attractive packaging solutions.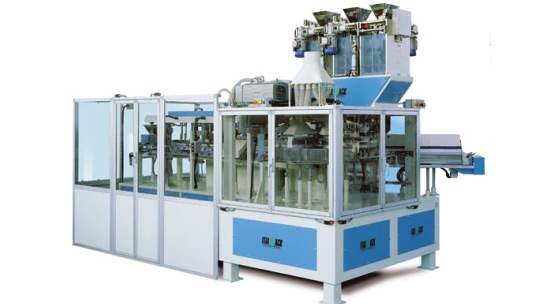 At the interpack show in Dusseldorf Italpack will be presenting the latest member of their "PACK" range of machines to the market. The machine in question is the new, higher-capacity PACK 50/10 designed to handle ready-made, SOS block-bottom paper bags. The packer can be employed in a wide-range of industries for packing powders or granular materials. The packer to be exhibited is already sold to a leading flour milling group based in southern Africa and will be delivered immediately after the show.
The PACK 50/10 handles weights of 10 kg and 12.5 kg and guarantees throughputs of 23 bags per minute on the 10 kg sizes and 19 bags per minute on the 12.5 kg sizes. These throughputs are based on wheat flour and maize meal.
Mark Wild, Export Sales Manager at Italpack, explains Packaging Europe the secret behind the company's rapid growth and continued success in export markets: "The secret of our success is the fact that there are no secrets. As a company" continues Mr Wild "we uphold a totally open and honest philosophy when it comes to all commercial matters between ourselves and our customers.
We treat our clients as partners and this means that they are involved in each and every single process from initial technical consultations, through the formulation of a quotation, adding of accessories and optionals when and where required, finalisation of a supply contract, machinery design and manufacture, dry testing, shipping, on-site erection, commissioning and training of personnel. The most important voice throughout is that of the Buyer and we are happy to listen to that voice and act accordingly to ensure that the final result is always the same: total customer satisfaction."