As part of the "Innovations on Tour" series, Hasco paid a visit to cooperation partners Arburg, presenting its range of services for standards and hot runner technology.
Arburg demonstrated the advantages of electrically-driven injection moulding machines. The focus was on the topics of efficiency and innovation. Almost 50 participants from around the region took the opportunity to exchange experience in Lossburg.
In a number of exciting presentations, the Hasco speakers offered an overview of forward-looking hot runner technology, efficiency improvements in mould construction through the use of innovative standards, optimal machining and the benefits of DLC technology in which a diamond-like carbon coating is applied.
Rolf Reuschle, Hasco's Director of Sales for South-West Germany, started the event by welcoming the participants. "Today we are going to tell you about a number of innovations and trends in mould construction. Arburg has kindly provided us with the perfect framework for our presentation."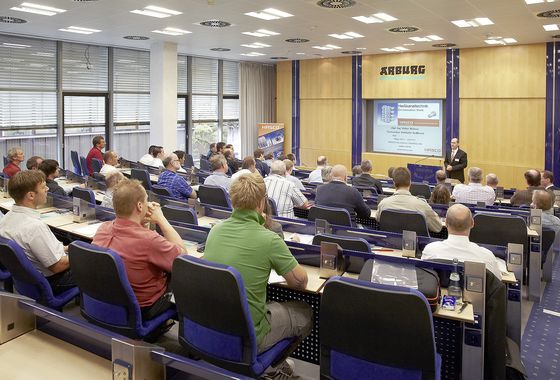 Eberhard Lutz, Arburg's German Sales Manager, added: "Here in the Black Forest region, we can reach an unusually large number of innovative mould makers and plastics processors." His presentation focused on the opportunities available for increased efficiency in injection moulding plants.
Based on a sample calculation for comparable hydraulic and electric machines, the amortisation period for an electric Allrounder from the new Edrive series was only around half a year. This results from the fact that electric drives significantly reduce cycle times during injection moulding and that greater precision and part quality reduce the number of rejects, cutting energy consumption by up to 50 percent, explained Eberhard Lutz: "The higher purchasing costs associated with an electric machine were thus quickly balanced out. Moreover, injection moulding companies can achieve considerable potential savings by further optimising their processes."
Volker Wittmer from Hasco showed how electric servo motors can be used to drive not only injection moulding machines, but also the needle shut-offs of hot-runner nozzles. He explained that this forward-looking technology was now ready for series production and offered numerous advantages. He presented a nozzle for direct lateral injection in multi-cavity moulds as an innovation in hot runner technology that was particularly suited to the packaging sector. Among the benefits he mentioned were the facts that divided mould inserts were not required and that leakage could be avoided.
In his presentation, Christoph Gerber from Hummel discussed hot runner control and the machine technology required for this. Frank Minninger, Hasco Technical Sales, explained how efficiency in mould construction could be increased through the innovative use of standards. He explained how moulds were being subjected to ever increasing demands. In view of the costs involved, production must be as efficient as possible. This was achieved through the application of standards during design that are conventionally covered by individual functions and tasks. This enables a lot to be achieved with little expenditure.
Alexander Ulman from Hasco used a number of practical examples to illustrate the benefits of DLC coatings in comparison with conventional corrosion protection. These primarily involved high wear resistance and hardness, resulting in longer service life – plus an associated increase in productivity. DLC coatings are particularly suitable for moving mould components, such as cores, slides and ejectors. The theoretical part of the event was rounded off by the presentation by Klaus Zimmermann from Hasco on the machining of Toolox33 and easy clamping methods.
The multifaceted programme was supplemented by practical discussions and a tour of the Arburg Customer Center with approximately 30 injection moulding machines, which are used to test customer moulds, for example.