Husky Injection Molding Systems launched its new H-PET AE (all-electric) injection molding system, a small, efficient and low maintenance solution for PET preform manufacturing. Demonstrated at the K2010, H-PET AE offers lower part costs and greater energy efficiency than competitive systems in this range.
The system effectively meets the needs of customers in emerging markets and lower volume, custom preform and bottle producers in niche markets.
"With H-PET AE, more PET preform manufacturers can benefit from owning a Husky system," said John Galt, Husky's President and CEO. "This expansion to Husky's product line will allow us to serve a broader market segment, while continuing to offer the same level of quality, reliability and after-sales support customers have come to expect from us. Our goal is to provide the best return on investment for manufacturers entering into or expanding their presence in the PET market."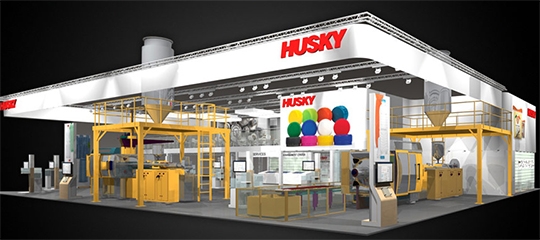 "The introduction of Husky's H-PET AE is an exciting development," said Mr. Ram Saraogi, Chairman of Chemco Plastics Industries Pvt Ltd. "We're glad to see that Husky is committed to thinking about the needs of all markets, established and developing, and how to effectively serve them both."
Husky's new H-PET AE system is an energy efficient, reliable and low maintenance solution for preform injection molding. Various capabilities, such as tight process control, accurate mold tolerances and high quality auxiliaries, make H-PET AE a more sustainable system that offers lower part costs. The system requires a lower capital investment and is available in a number of different clamp, extruder and mold cavitation combinations.
The 32-cavity H-PET AE 180 system running at the Husky booth is producing a 22 gram EcoBase preform for a 1 liter still water bottle application at 11.8 second cycles. By modifying the base, EcoBase preforms are up to 2.5% lighter than other lightweight preforms, allowing molders to reduce resin consumption.
With Husky as the single-source supplier for the complete turnkey workcell, H-PET AE includes the machine, mold, hot runner, auxiliaries, piping, electrical distribution and auxiliaries, all managed through Husky's Polaris Control. Rather than purchase discrete pieces of equipment, customers are provided a complete preform workcell from Husky, who will take responsibility for supporting them from start-up through the life cycle of the system. H-PET AE is optimized as a whole to maximize performance, increase quality, reduce waste and lower energy consumption. Husky also offers the experience to keep these systems running at peak efficiency and is the only supplier in this output range to provide a full suite of services and support, backed by a global team of PET specialists.
H-PET AE includes a number of optimizations to provide a flexible configuration for preform and bottle producers using a single machine for multiple applications, including the ability to change molds with minimal downtime. By improving the mold change process, manufacturers can increase productivity and lower conversion costs.