Greiner Packaging
continues to enlarge its technological offer in the UK
On the new injection stretch blow molding machine in Northern Ireland, bottles for sauces and dressings are being manufactured for Rich Sauces.
As of November 2011, Greiner Packaging at the Northern Irish facility in Dungannon has commenced operation of a new injection stretch blow molding machine, enlarging its Kavo product range in this region. The first packages under production are 2.3 liter cans made of PET. The largest Irish sauces producer, Rich Sauces, is filling them with its versatile offers for sauces and dressings.
Greiner Packaging is enlarging its machinery pool in Dungannon (Northern Ireland) with a new injection stretch blow molding machine. Günter Ausserwöger, Head of Division Kavo at Greiner Packaging, explains the background to this investment: "With this machine, we bring our competence for injection stretch blow molding close to our customers, completely in accordance with Greiner Packaging's strategy. As a result, new interesting opportunities for Division Kavo are being created for the markets in Great Britain and Ireland."
The first packages being manufactured on the new machine are PET cans for Rich Sauces, the largest producer of sauces in Ireland. Its filling volume is 2.3 liters. Its neck has an opening of 80 milliliters. Ausserwöger adds: "Containers like these can be used for a wide array of products. We expect good market opportunities for packaging in these dimensions and expect to continue enlarging our product assortment."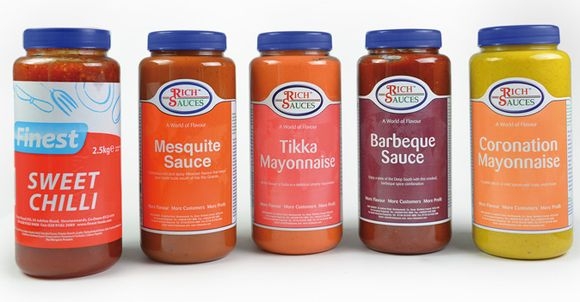 Rich Sauces is using the new packaging for 27 different types of sauces and dressings. In line with our corporate philosophy, the sauces and dressings are developed by experienced chefs. Rich Sauces follows strict quality principles in terms of preparation and the selection of ingredients as well.
The company Rich Sauces is based in Newtownards (County Down, Northern Ireland) and was established in 1987 by Trevor Kells. It employs a staff of 85 employees and sells mayonnaise, sauces, dressings and bouillon in Ireland, Great Britain and Europe. Rich Sauces produces in compliance with quality standard ISO 9001:2000.