The SFXmagnus R offers for the first time in the SFXmagnus series an integrated self-cleaning of the filter elements and guarantees at the same time a constant process. This Rotary Filtration System has been designed for applications with a lower contamination level, among others in the recycling sector, where back-flushing makes sense, but where frequent back-flushing cycles are not absolutely necessary.
A new system for PVC processing and PVC recycling is the SFpvc, which is tailored to these difficult applications, in which Gneuss traditionally has a high market share. This Rotary Filter distinguishes itself by an optimized process even with high surges of contamination and by a very robust drive technology.
The Rotary Filter KR is based on a completely new design and combines the series of discontinuous screen changers with the proven concept of the Rotary Filtration Technology. Further, it convinces by its compact and robust design.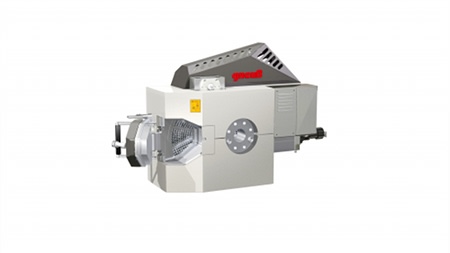 Special sensor design for difficult applications
In food applications, regular cleaning of the machinery is absolutely necessary, so that sensors are often subject to steam or water jets. Gneuss has developed a special type of sensor for these applications, which remains water-proof even if its plug is removed.
The processing of WPC (Wood Plastic Composite) makes an extremely rugged sensor necessary. This is why Gneuss has developed a special membrane technology offering a high strength for highly abrasive materials and a much longer operating life compared to conventional sensors.
For especially difficult process conditions with short excess pressures, frequent pressure peaks as well as not melted components in the material, sensors are highly stressed. Gneuss supplies a special heavy-duty design of their sensors.
For applications with limited installation space, e.g. for spinning beams or small lab lines, Gneuss offers a special design with minimum space requirements and M10 threads.