The global market for industrial packaging was estimated at $48.6 billion in 2013 and is forecast to reach $61 billion by 2020, at a growth rate of 3.4% per annum, according to a new market study by Smithers Pira.
Fluctuations in overall economic activity provide a good indicator of movements in industrial packaging demand. The global economic downturn and subsequent patchy recovery have had an impact upon demand for drums, IBCs, sacks and other materials. The industrial packaging sector is also dependent upon the fortunes of the key user industries, notably chemicals, lubricants, bulk food and beverages; building and construction.
This major new report by Smithers Pira – The Future of Industrial Packaging to 2020 – examines the global market for industrial packaging and the key industry trends that will shape the market over the next five years. The prospects for industrial packaging are analysed by product type, end-use sector and geographical region.
Asia accounts for the largest share of the industrial packaging market at 31% in 2013 and will continue to see the highest growth: the region will increase its share of total demand to 34% by 2020, according to the report's findings. In contrast, West Europe is expected to see its share fall to 28% by 2020 as overall growth falters, with some key markets in decline.
Rigid industrial packaging accounts for the majority of industrial packaging, although sacks represent the largest single sector under review. Drums and IBCs together accounted for just under a third of the market in 2013, but are forecast to represent 36% of total usage by 2020, with the strongest growth expected in IBCs. Sacks are expected to lose share from 27% to 25% as moves are made away from manual handling towards greater mechanisation and greater emphasis on bulk supplies in fast growing Asian markets.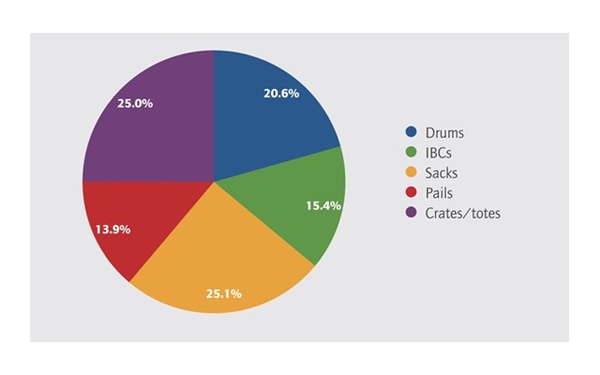 Global market for industrial packaging products, percentage share by value, 2020 ($m)
In terms of end use markets for industrial packaging, the chemicals and pharmaceuticals sector is the most significant, accounting for more than 30% of total sales. The chemicals sector represents over three quarters of the steel drum and rigid IBC market and accounts for more than half of all plastic drums in use. In addition, a high proportion of lower volume chemicals and pharmaceutical products are packed in sacks.
The building and construction sector and the food and beverages sector each account for around 15% of the total market with usage predominately focused on flexible packaging, including PE and paper sacks and FIBCs. Plastics and rubber along with oil and lubricants account for around 17% of the total market, with usage centred on drums and IBCs, both rigid and flexible.