Stonyfield Farm, the world's leading organic yogurt company, introduces the first yogurt cup made from plants, giving consumers a cup they can feel as good about as the organic yogurt inside.
Every Stonyfield Farm multipack yogurt cup will be made from plant-based plastic. The breakthrough cup slashes carbon emissions by nearly half (48%) and places Stonyfield on the front lines of the growing sustainable packaging industry, a field expected to reach $142 billion by 2015.
Stonyfield, with a history of leading the way in sustainable packaging, makes this positive change with no increase in price on any of its multipacks. The new cups look and feel just like the petroleum-based polystyrene (PS#6) cups they replace, the only difference is the new "Made From Plants" stamp on the bottom.
"Our new made from plants yogurt cup is the latest step in Stonyfield's more than 20-year journey to make sustainable packaging that people can feel good about," said Gary Hirshberg, Stonyfield's President and CE-Yo. "Moms trust us to do the right thing and that's something we take very seriously. We've worked hard to produce a plant-based cup that's an easy way for moms to 'pay it forward' to their kids."
Stonyfield's new plant-based cup is an important step toward the yogurt cup of the future. The cup is 93% made from polylactic acid, which at this time is made from corn. Within five years, the US Department of Energy predicts that non-food plants will be viable alternatives. Until that time, Stonyfield uses an offset program to produce a sustainably grown amount of corn equal to the amount used for the cups. Thus, by taking an equivalent amount of GMO corn out of production, Stonyfield is not supporting GMOs.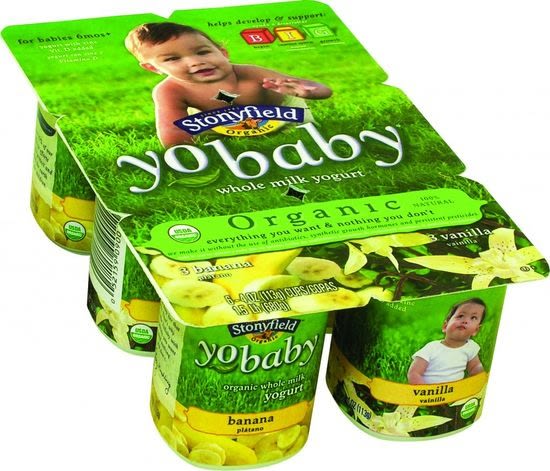 Recycling is an important step that people can take to reduce the impact of some of the packaging they use. Like the polystyrene plastic packaging it is replacing, the new plant-based cup is not recyclable in most communities due to lack of recycling infrastructure. As demand increases, this will improve but, for now, Stonyfield's new multipack cups should be placed with the non-recyclables. Currently there are only two facilities that can process the material from recycling centers. As more plant-based plastics begin to be used by manufacturers, recycling centers will have enough demand to add recycling systems for plant-based plastic, and the ability to process the material will expand.
"This new yogurt cup is something we've been working to achieve for years and we are excited to be able to introduce it now," explained Nancy Hirshberg, Stonyfield's VP of Natural Resources. "Even without a recycling option in the early stages, plant-based plastic is already better for the planet than polystyrene because it produces lower carbon emissions and requires less fossil fuel to make. As this new type of plastic become commonplace, the potential environmental benefits only get better."
To demonstrate its commitment to sustainability, Stonyfield is open-sourcing everything the company has learned about plant-based plastic so that other companies can give consumers what they really want – packaging that allows them to have their food and their planet, too.
Visit the Stonyfield website for a short film about its "Made from Plants" journey and more information about the project, Stonyfield's products and other programs.