Most recently, a polyolefin sheet manufacturer decided for the third time to purchase a PE/PP sheet extrusion line from
battenfeld-cincinnati
, Bad Oeynhausen/Vienna.
The highlight of this equipment, which has just been commissioned, is a polishing stack with a high-speed roll change device, which gives the sheet manufacturer more flexibility.
The sheet manufacturer specializes in the production of PE and PP sheet with thicknesses ranging from 1 to 15 mm, which is mainly used for thermoforming applications. For example, wheel cases or other casing parts for the automotive industry are made from this sheet, as well as sandboxes and plant containers for gardening and leisure-time activities, and transport equipment and technical parts for the packaging industry. The plastics processor uses extrusion lines from battenfeld-cincinnati to produce the sheet. With these, the sheet is extruded in widths of up to 1,700 mm, partly in multi-layer versions.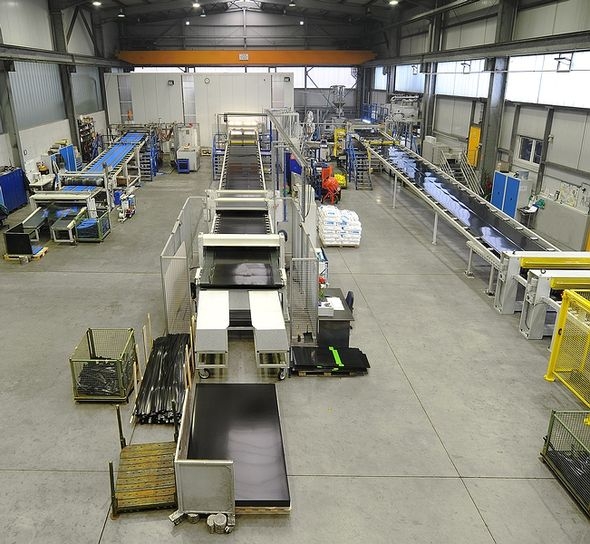 At the customer's request, battenfeld-cincinnati equipped the newest line, which was installed in autumn 2011, with a special polishing stack for high-speed roll change. Thanks to the fast roll change system, the time required for product change-over has now been halved compared to conventional systems. Surface treatments such as matt finish or leather graining can now also be applied much more efficiently.
Another important aspect in sheet production is ensuring gentle
and homogeneous plasticizing. In this line, this is taken care of by a 120-mm single-screw extruder equipped with a barrier screw with mixing section. The 1-120-35B extruder also comes wit a screen changer, melt pump and compounding device. The line speed of 300-400 kg/h can be reached in processing virgin materi-al as well as 100% reclaim from the thermoforming process.
battenfeld-cincinnati plans to develop the PE and PP sheet market into another strategic growth area for the group, after a considerable number of individual orders such as the one described above have already been received over the last decades. In 2011, a total of 3 extrusion lines for PE/PP products have been installed. This special market segment will now be added to the thermoforming film segment which has already been successful for a number of years, thus further strengthening battenfeld-cincinnati's core competence in the fields of extruders and polishing stacks.