With ultrasonics it is possible to solve a variety of joining tasks for instrument clusters. The weld tasks are just as individual as the design itself: Dust-free welding of cover slips to front frames, gap-free staking of chromium-plated trim rings or distortion-free joining of display plates. Ultrasonic welding is particularly suitable for parts with complex shapes and different weld zone positions. The machine cycle times are often less than 10 seconds.
A car is given its unique "face" by the design of the front section, including front grille, bumper and headlights. A comparable effect is obtained in the interior by the design of the instrument cluster. It gives a vehicle its individual character. The designers' freedom is unlimited. Therefore, it is the developing engineers who must find the ideal weld geometry, be it for welding of a single-part cover slip or several lenses onto the front frame or be it for individual weld-on of several segments.
In comparison with other joining processes, such as vibration and laser welding, the ultrasonic joining technology can score highly. With cycle times of less than 10 seconds it is possible to weld cover slips (made of PMMA and partly equipped with hot-embossed rims) onto support frames accurately and distortion-free. With weld processes of only half a second it is possible to achieve high-strength joints mark-free and lint-free. Energy is focused specifically in the area specifically designed for ultrasonic welding and thus prevents undesired component distortion.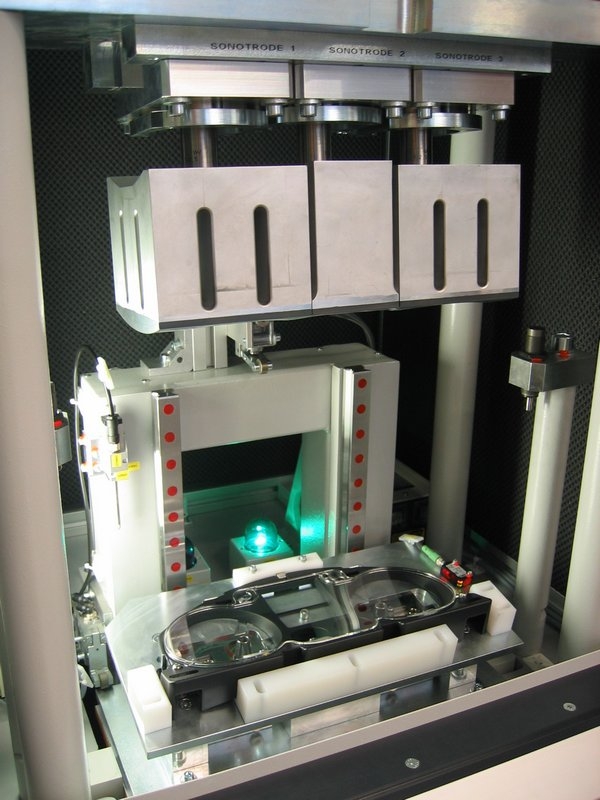 No additional consumables, such as adhesives or screws are required for ultrasonic welding. Specially conditioned plastics are not required, either. In comparison with clipped components, the ultrasonic process ensures creak-free connections and saves costs in terms of sophisticate tool structures. Even for difficult-to-access joining points or component surfaces with 3D contours, it is possible to develop suitable weld tools (sonotrodes) for safe production with the help of FEM calculations (finite element method).