Fakuma's anniversary exceeds all expectations, exhibitors close business transactions with customers from 90 countries, more than 37,000 expert visitors and a total of 500,000 visitors throughout Fakuma's history to date
Once again in 2009, the Fakuma international trade fair for plastics processing has lived up to its reputation as Europe's, if not the world's most important plastics trade fair. This applies above all to the field of injection moulding technology, and Fakuma is plainly the world's number one event in this area! But not only in this sector – because Fakuma is also the international leader where extrusion and thermoforming technologies are concerned. This also became plainly apparent in a highly convincing fashion at Fakuma's 20th anniversary event which was held again at the Friedrichshafen Exhibition Centre on Lake Constance from the 13th through the 17th of October.
Fakuma was able to assert itself on its 20th birthday despite turbulent times within the market. More than 1500 exhibitors came from over 30 countries and occupied more than 910,000 square feet of overall exhibition floor space at the Friedrichshafen Exhibition Centre, which has once again been expanded. Furthermore, the 20th Fakuma drew 37,281 expert visitors from more than 90 countries around the globe, and thus in light of the internationalism displayed by manufacturers and suppliers, as well as by expert visitors, the event rightly lays claim to its title as an "international trade fair for plastics processing".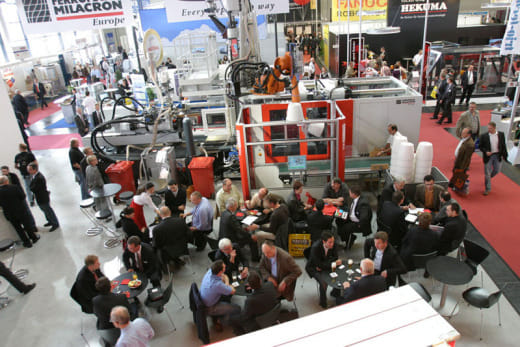 Beyond this, the five hundred thousandth expert visitor to attend Fakuma over the years, Mr. Kornel Barna, was welcomed already on the third day of the event, a fact which allows one to draw conclusions regarding the unremitting success story of the 28 year old Fakuma.
Extremely strong media presence demonstrated by just under 500 representatives of the trade press, the business press and the daily papers is further indication of the enormous international importance placed upon Fakuma, and even radio and television were on hand providing extensive coverage of the event. In the end, the plastics technology economy proved itself highly robust at Fakuma, and revealed that it's regaining its strength: Numerous exhibitors who came to Friedrichshafen with relatively low expectations were able to transact surprisingly good business, and are now reporting well filled order books, which hasn't been the case for quite some time in this innovative industry.