Veriplast is introducing an impressive labels. Its main advantage is unusual thickness. Extra Slim Label a breakthrough in the IML has only 38 ?. That`s 30 ? less than the market standard.
38 ? (micron) Extra Slim Label reduces the CO2 footprint by 30 percent compared to the same label with 60 ? thickness. The gain is equal to a car driving 7 000 km from 1 million labels.
Extra Slim Labels can be printed in flexography or rotogravure. - Strong technical knowledge and ability allows our process to ensure the label remains flat throughout the manufacturing process (printing and cutting) and during the IML process of our customers. This technological breakthrough allows us to maintain a consistently high printing definition which is very precise - explained Veriplast`s representatives.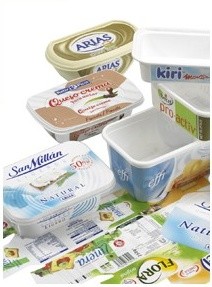 Reducing the label thickness to 38? not only has a favourable impact on weight but also optimizes transport costs (- ncreased leabels per pack - and also allows to change over costs on injection machine - more labels on same height. Its last benefit is reduction of plastic consumption to meet ISO 14001 commitment.
Besides Extra Slim Label the another important achievement of Veriplast is also developing EcoCell Technology providing up to 20 percent weight decrease for FFS application, and Slim Technology (Super Light Injection Molding), wchich gives up to 10 percent weight decrease and exclusive process for thin wall injection application.
Activities of Veriplast are organized around five areas: Flexible Solutions - primary films, secondary films, free standing bag, pouches; Recycling Solutions - PE production from recycled films; Decorative Dolutions - IML printed labels, and printed sleeves; Consumer Packaging Solutions - single use packaging, bespoke, standard or customized packaging mainly in the food industry; Food Service Solutions: Single use packaging, standard or customized packaging.