At this year's "Drinktec" (featuring an integrated "PETpoint") from 14 to 19 September in Munich, the Austrian recycling specialist Erema will be presenting its expertise in the field of technological, high-quality and cost-efficient plastic recycling.
A focal point here will be the reprocessing of waste post-consumer plastic, in particular PET bottle flakes, to make recycled pellets that are suitable for food contact again, as documented by many national and international certification organisations.
Unlike conventional, multiple-stage processing techniques, the patented Vacurema technology used for this purpose produces a highly pure material in one single pass with low specific energy consumption that is unrivalled.
The modular Vacurema concept enables you to configure the perfect system in terms of both technology and economy for any application, according to the desired IV (IV – intrinsic viscosity as a comparative measurement for the molecular weight) of the recycled pellets made, ranging from the Vacurema Basic (IV virtually the same as the starting material) and the Vacurema Advanced (IV increase up to 6%) to the top expansion stage, Vacurema Prime, that produces recycled pellets with IV values similar to those of virgin PET material. All Vacurema systems are suitable for adding downstream equipment from Erema to make complete inline production lines, for example for rPET flat film direct from post-consumer PET bottle flake that is suitable for direct food contact.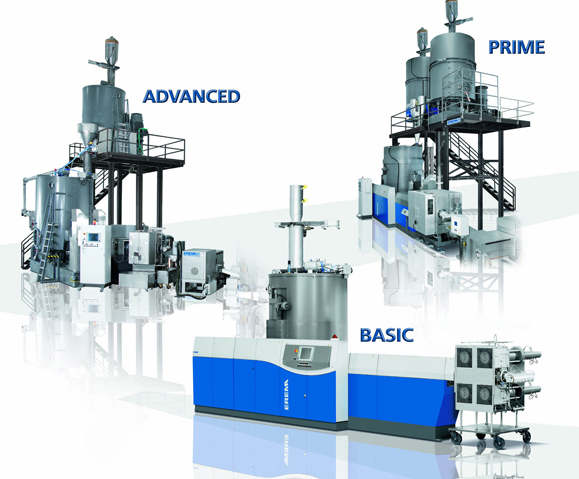 In addition to this bottle-to-bottle recycling technology, Erema will also be giving an insight into its extensive overall portfolio at its PETpoint stand. Besides complete repelletisingextrusion systems for every application, from the reclaiming of polyolefines to technical plastics, the range also features automatic melt filters, pelletising plants, compounding units, edge trim recycling systems and pre-shredding machines and silo systems. Erema customers also benefit from decades of experienced know-how and the professional, worldwide service.
Since it was founded in 1983 Erema has specialised in the development, manufacturing and worldwide distribution of plastic recycling systems and technologies for the plastics processing industry. With its own sales and service companies in the USA, China and Japan, plus around 50 local representatives in all five continents, Erema provides custom recycling solutions to match almost any individual application requirements. Innovative, stable technology and global service support ensure that owners enjoy the maximum benefit from their machines. Erema's technology has become established as a global, leading standard for a wide variety of recycling tasks, ranging from the recycling of polyolefines to polyester (PET).