The Engel victory 1050/160 at Engel's trade fair booth is also equipped with ecodrive. The machine will be demonstrating a medical application where energy efficiency and maximum precision are the key requirements. Cylinders for 2-ml syringes will be produced using a thin-wall technology and a 32-cavity mould by Swiss mould maker Schöttli. Substantial reduction of the wall thickness compared with legacy syringes guarantees considerable improvements in material use and to cycle times. The material used here is medical grade polypropylene by Borealis from Linz/Austria. This application clearly demonstrates that high-precision thin wall applications can be implemented using standard ENGEL machine technology.
At Chinaplas, Engel will be producing LED leadframes on an Engel insert 80V/60 type machine; this application was a huge success when demonstrated at Koplas in Korea last year. The 60 ton clamping force insert machine was built at Engel's production works for small to mid-range machines in Pyungtaek City, Korea, and was specially modified to fulfil the requirements for leadframe manufacturing. The machine's mould fixing platens were enlarged to accommodate moulds with more cavities. This trade fair exhibit will be working with a 256-cavity mould by Woosung Hitech, Euiwang City, Kyounggi-do, Korea. The cycle time of this application is 10 seconds.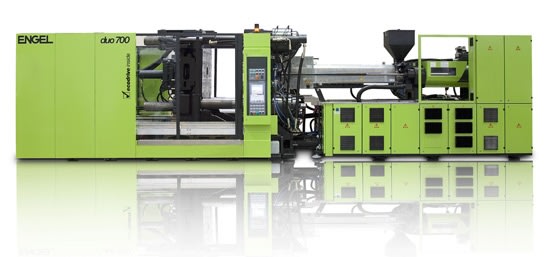 Representing the fully electric machines, an Engel e-max 200/100 will be producing seal rings from liquid silicon at Chinaplas. The machine has been fitted with an LSR dosing unit by Elmet for this application and uses raw materials supplied by partner Dow Corning. The Engel e-max guarantees 100% compliance with the requirements of Asia's plastics processors by combining maximum performance, highest productivity and precision with an extremely economical drive technology. Thanks to the compact construction, its high efficiency unfolds on a very small floor space and with very attractive price/performance figures into the bargain. The machine can be upgraded by adding a variety of optional standardised technology modules to fulfil individual requirements in a targeted manner.
A second Engel e-max machine will be on display at the booth of ENGEL partner Max Robot, Yuyao City, Zhejiang, China. The machine will be producing mobile phone shells in thin-wall technology with an insert-placing part.
With these five exhibits, Engel will again demonstrate its system competency at Guangzhou. From the machine, via automation and process technology, through to training and service, Engel covers the complete spectrum of injection moulding technology worldwide. Only if all of these areas mesh perfectly, it is possible to fully leverage the efficiency potential of the application, while at the same time improving the quality of the moulded parts.
"The investment climate in China is very good at this year's Chinaplas", emphasises Gero Willmeroth, Sales Director with Engel Machinery in the run up to the fair. "In May, we can look forward to launching numerous new projects in Guangzhou. The attendance figures at Chinaplas will continue to increase."
China recently set a target of seven percent growth per annum in its new five-year plan. One notable trend is the expansion of production locations into inner regions of the country. To ensure customer proximity, Engel already has three subsidiaries in China - in Shanghai, Beijing and Shenzhen.