Customised energy system for the world's market leader in beverage filling packaging technology officially inaugurated.
REWAG is the first company in Germany to combine unit-type cogeneration plants with a high-temperature heat pump. This means the entire waste heat from the cogeneration plants can be utilised for heating, because this heat pump enables the temperature to be increased from around 40 to over 90 degrees Celsius.
That saves energy, and thus actual money. This kind of energy-economical, cost-efficient innovation was just what Krones AG was looking for. After all, at group headquarters in Neutraubling there are about 300,000 m2 of production and administrative space that need heating or cooling for the approximately 5,500 people working there. And since Krones has a relatively constant demand for heating or cooling the whole year round, REWAG had optimum preconditions for the contracting project, whose completion provides only advantages for everyone involved.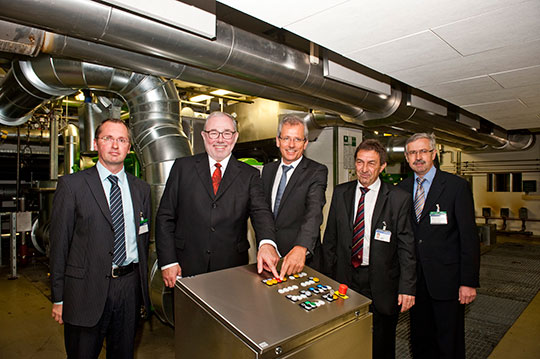 Few days ago, Krones' Executive Board Chairman Volker Kronseder, Johann Hafner, Head of Construction at Krones, REWAG'S Board Chairman Norbert Breidenbach and REWAG's authorised signatory Karl-Wolfgang Brunner officially inaugurated the new plant.
REWAG invested a total of around 1.7 million euros in this plant. Krones AG also had to provide substantial funding for putting in place all the installations required on site for optimum utilisation of the cogeneration facility.
The overall concept of efficient heat and cooling generation, plus an option for being used as an emergency generating set, was a crucial criterion for Krones in the choice of REWAG as the vendor. "REWAG offered us an energy concept that was the best variant in terms of both energy-economy and cost-efficiency", said Volker Kronseder.
Three unit-type cogeneration plants, each rated at 625 kilowatts of electricity and 705 kilowatts of thermal energy, generate 12 million kilowatt-hours of electricity plus approximately 14 million kilowatt-hours of heat for both heating and cooling provision a year, and if required emergency power for the EDP system. The total amount of electricity generated by this unit-type cogeneration facility covers almost 40 per cent of the power required at group headquarters in Neutraubling.
The energy generated would be sufficient to supply 3,400 detached houses with electricity and 560 houses with heat for a year. "This is the first time we've deployed a high-temperature heat pump that also converts into thermal heat the low-temperature waste heat and thus the entire waste heat produced in operating the unit-type cogeneration plants,", explains REWAG's Board Chairman Norbert Breidenbach. The result: savings of about 38 per cent in primary energy compared to separate generation of electricity and heat, and a 7,160-ton reduction in carbon dioxide emissions compared to generation in a conventional power plant.
Unit-type cogeneration plants are particularly efficient and energy-economical decentralised facilities that use a generator to produce both-heat and electricity. The overall efficiency is more than 80 per cent of the primary energy (natural gas) employed.